Face-to-Face on-site classes in Malta or online English lessons?
---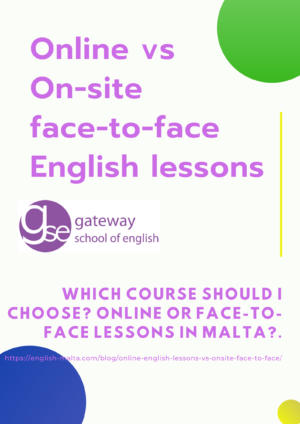 Online English courses vs Face-to-Face On-site English classes in Malta
At Gateway School of English GSE we offer both online English courses as well as face-to-face on-site lessons at our school in St Julian's Malta. Students are normally undecided whether to take an online course or book a course in Malta. This is a very common dilemma however there are various factors one should consider before reaching a decision. Apart from the financial aspect, which is normally one of the most important deciding factors, there are other pros and cons for each type of class. From a financial point of view an online course is cheaper than a face-to-face course when taking into consideration the transport costs to get to Malta, the accommodation and living costs while you're in Malta and other expenses. Time available to travel to Malta is also a determining factor which students often consider before they book a course. Those who might not have enough time to dedicate for travelling to Malta for an English course will opt for the online option. We at GSE believe that both methods of learning are effective but the experiences are different.
At GSE we use the synchronous e-learning method for our online classes which involves online learning through LIVE chat and videoconferencing. It is like a virtual classroom that allows students to ask, and teachers to answer questions instantly, both verbally through instant messaging, which is why it is called synchronous. This is the most effective online virtual teaching method as it is the closest one can get to a real classroom. The teacher can still cover the four language skills: speaking, listening, reading and writing while including systems such as vocabulary, grammar and pronunciation. This means that there can be a balanced mix of skills in the online class similar to an onsite class. What might be lacking is student-student interaction however teachers sometimes use breakout rooms (outside the main online classroom) for pair work or group work that enables small groups of students to interact between each other while doing a class activity. So group activities such as class presentations, peer correction and group discussions can all be done online as well.
When attending an English language course, in an English speaking country such as Malta, students will have the opportunity to mingle and interact with students during break and in their free time after classes. This type of interaction which certainly enhances the language learning experience cannot take place online. However students from different courses taking online courses may agree among themselves to book a course in Malta together later on so they may meet each other and their teacher face to face and build on their initial virtual learning experience. This makes the language travel experience even more exciting as students will have the opportunity to get to know each other and their teachers online and then travel to Malta to meet in person with both their classmates and their teachers.  Therefore online classes can complement face-to-face lessons and serve as an introduction to lessons in Malta.
Students also take the opportunity to book online lessons to improve their English before they travel to Malta to follow a course with GSE. We have students of all ages from young learners to students over 50 years of age who book group or individual tuition prior to their language stay in Malta. It is always a recommended option that beginner students book a few online classes to be able to join the regular all year round Beginner level General English group once they start their course in Malta. GSE offers General English courses in Malta at all levels from Beginner to Advanced.
We also have students who like the teaching style of a particular teacher and wish to continue having lessons on their return back home. This is an opportunity for students to continue their language learning experience with GSE online and focus on the specific language areas they need to reinforce once they are back home. There are students who choose the private online tuition option and those who choose the group tuition option if that teacher is also teaching a group of students online.
We still use the communicative approach to language teaching in our online classes meaning the focus is also on speaking, that is improving fluency. For example Online conversation classes are also just as effective as face-to-face conversation classes as the focus is on speaking and listening and all speaking activities one would expect in a face-to-face class can be easily conducted online. GSE offers online speaking classes all year round at very reasonable prices and at different levels. This is a good opportunity for those students who wish to keep practising their English with other class mates in the presence of an English teacher or to brush up on their English listening and speaking skills with experienced GSE teachers and an international mix of students in class.
GSE online classes similar to on site classes in Malta are known to have a balanced mix of nationalities which is also an important aspect to take into consideration when choosing an English language course. Having different nationalities in class gives lessons, whether online or face-to-face, a more interesting dynamic- making lessons more engaging among classmates as they get to know about different cultures. Not only cultures but also schools of thought as influenced by different cultural and religious backgrounds. For example a hot and debatable topic among students would be the rights of minority groups in their respective countries. Such a topic would certainly generate a lot of discussion between students of different nationalities which would make the speaking class more interactive and lively.
GSE provides end of course certificates for both online courses as well as face-to-face classes in Malta. Whether you take an online course or onsite classes in Malta you will still receive the same certificate confirming your course attendance and level at which the course was taken. GSE is a fully licensed European educational institution in Malta, recognised and licensed by the ELT English Language Teaching Council, within the Ministry of Education in Malta.
If you are still in doubt as to which course you will be choosing and whether to study online or at our school in Malta please do not hesitate to drop us a line on: [email protected]
Gateway School of English GSE offers a wide range of online classes from General English to Business English, Conversation/Speaking classes, private tuition, Kids' classes for those children wishing to keep up their English throughout the scholastic year and Exam preparation courses (private or group tuition) with the most popular being IELTS.