IELTS Exam Preparation Group Courses all year round
---
IELTS has nowadays become the most important EFL exam for students learning English as a foreign language; whether for career advancement (work purposes) or as an admission prerequisite for a foreign university, the need to sit for an IELTS exam is increasing annually. The number of students taking the exam in Malta has also increased drastically throughout the last few years.  At Gateway School of English GSE we have also experienced an increase in the number of students choosing to take the IELTS exam preparation course and this is the reason why our IELTS classes are open every week all the year round.  So if you book an IELTS class at any time during the year, even for a week, you will be guaranteed the lessons from Monday to Friday.  We also guarantee small group tuition with maximum 8 students per class so that the teacher can focus on the individual needs of each and every student in the class.
There are no fixed start/finish dates for our IELTS classes and they are open every week all the year round. There is also no stipulated minimum or maximum number of weeks that you can book as this very much depends on the individual's time available and the level of English of the student.
SPECIAL OFFER LOW SEASON PRICE (all year round except July/August) for 20 lessons per week: Euro 190 per week.
HIGH SEASON (July/August) price for 20 lessons per week: Euro 240 per week.
We always do our best to hold lessons in the morning however please note that lessons might be held in the afternoon and GSE reserves the right to change the timetable of the IELTS exam preparation classes any time.  The timetable of your IELTS class will be explained to you on your first day at school.
GSE IELTS EVENING COURSES: We also offer evening courses at GSE from 6:30pm until 8pm daily Monday to Friday. The price is Euro 100 per week for 10 lessons per week IELTS in the evening. 
We also have the ONLINE option for the IELTS course and we hold exam preparation courses all year round. For more information regarding the online tuition please CLICK HERE.
IELTS Exam Test dates below: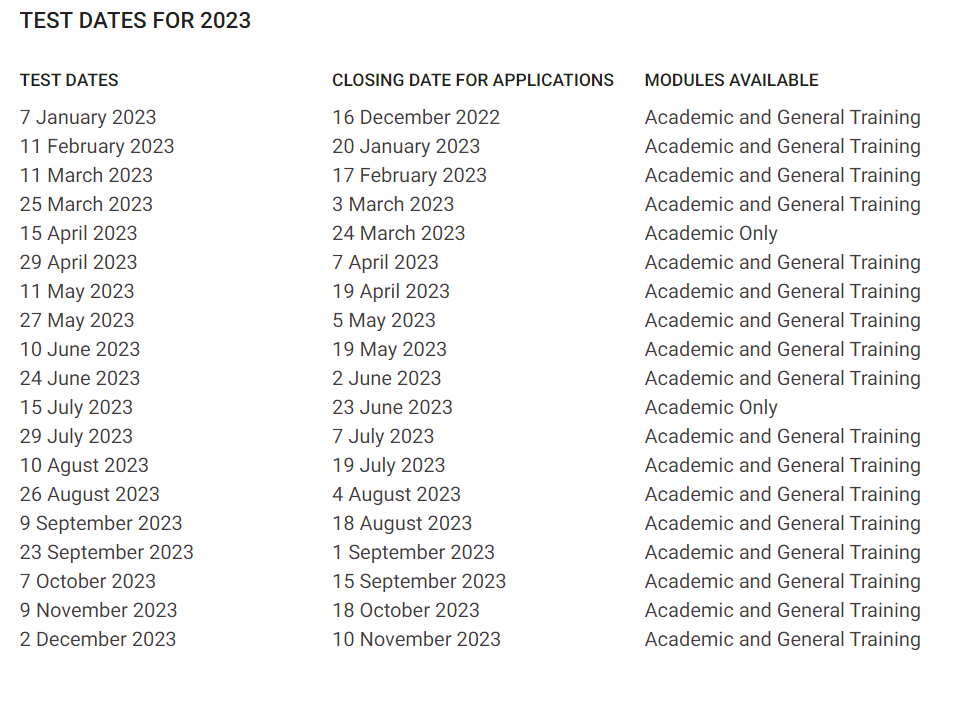 How to register for the exam:
The registration process is simple and at GSE we will do the registration for you at no extra admin fees.  We would need you to fill out the form manually here: IELTS Malta Exam Application form – Gateway School of English GSE or book online here: https://ielts.britishcouncil.org/ .
We will need a copy of your passport or identity card.
Payment can be made directly to the Chamber of Commerce in Malta by bank transfer or if you don't have the facility to do it yourself we will do it for you and you will pay the fees to the school.
Why start teaching IELTS internationally?
Teaching abroad is getting more popular as the days go on. People are becoming more interested in immersing themselves in new cultures. Most of the people love to travel.
However, this may seem impossible to some. They may not have enough money to spend on travel alone. A great way to get around this is working during your travelling. Teaching abroad could make this possible. 
When people from English-speaking countries want to travel, the language barrier is usually not a problem. Most countries around the world have English speakers. For this reason, tourists and new residents of foreign countries are able to communicate and find their way around.
In contrast, for people from non-English speaking countries who want to travel, communication is a challenging task. In countries like Australia, Great Britain, and the United States, you may not find a lot of people fluent in different languages such as Armenian, Arabic, and Ukrainian.
People who are from those other countries may want to travel, study, or work in English-speaking countries. They start paying more attention to their English skills. Some of them even need to take various tests. The tests may be for different reasons such as university admission, immigration to another country, etc.
IELTS is one of such tests that is being taken for the purposes mentioned earlier. 3 million students take the IELTS test annually. Since the number of IELTS students is increasing, there is a demand for IELTS teachers. There are enormous opportunities for people who teach IELTS professionally.
Here are some reasons why you should start teaching IELTS and become an IELTS Teacher.
More students available internationally
You may live and teach in a populated country full of people who want to learn English. There may be some demand for English teachers. Even if that is true, the demand for English teachers is much higher in non-English speaking countries. Less people know English in these countries and want to master the English language for different purposes.
Usually, the people from these countries who have an adequate level of English want to immigrate to English-speaing countries. Since there aren't many masters of the language in the country, English teachers are in much higher demand.
Countries like China, Japan, South Korea and Czech Republic, lack certified English teachers that can aid in IELTS preparation. IELTS teachers will be welcomed with open arms into these countries. In the beginning, the payout of your job may not be as great as you imagine. However, with time, as you advance and gain more expertise teaching outside of your country, you will have more students and will be able to generate more profit from your career. Other countries may even specifically request you as an IELTS teacher to travel to their country and teach.
Exploring new cultures
Working abroad can be exciting, especially when it comes to learning about new cultures. When you teach, you will always be talking and interacting with foreigners. You will immerse yourself in other cultures and learn all that they have to offer.
Specifically in the IELTS test, some questions ask students to describe their own cultures. While teaching, you will be able to observe your students' answers and their points of view on their culture. For example, the IELTS question may ask something that you would never ask to your student. When your student answers, you will be able to observe their answers and get to know more about their culture.
Opportunity to teach online.
Since the times have changed, the use of online resources is getting to another level in this day and age. Especially after the pandemic, the whole population will be shifting towards online solutions, and students will not be an exception. There are many ways to teach online, and nowadays, there are many tools that can support online teaching. 
Since online teaching is getting more and more common, while being in one country, you still can teach IELTS to students that are not in the same country as you are in. In addition, if you have students in your home country, but you still want to move out to a non English-speaking country, you can arrange your day-to-day classes on online platforms, using online teaching tools. 
Travelling opportunities
Online studies are already surpassing the traditional classroom ones. Yet, there are still a lot of language centers that will continue to stay open. They will provide students and teachers with the necessary preparations.
When you want to travel, you have to save money to be able to afford the journey. However, traveling to a country for teaching purposes makes you financially stable, and helps you travel the country you are in.
Teaching IELTS abroad is an excellent opportunity for you to travel to destinations where English is not their first/native language. Some of the most common destinations are the UAE, China, and Russia. These countries are especially costly for regular tourists, but you can still make these destinations doable if you integrate teaching and traveling altogether.
Working in a multicultural team
When you are teaching overseas, and you work in an office setting, you will have to deal with a multicultural atmosphere.
Working with people outside of your home country exposes you to new views and teaching techniques. Learning new ways of teaching will benefit your career. Working with a multinational team will advance your personal development as well.
As you can see, teaching English for the IELTS test internationally is quite an attractive career. It allows you to explore new cultures. You also learn from people that have different backgrounds than you. IELTS teachers interact with students that have a diverse set of views. Just as much as the students can learn from the IELTS teacher, the teacher can also learn from his or her students. There is hardly a more interesting profession out there.