Summer 2021 free vouchers can be used to upgrade your course or pay accommodation
---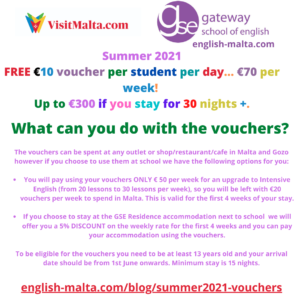 Visit Malta and the Malta Tourism Authority is giving €10 per student per day this Summer 2021 to students studying English in Malta with fully licensed English language schools such as Gateway School of English GSE.  These €10 vouchers are given for minimum stays of 15 nights and maximum 30 nights. 
SPEND YOUR VOUCHERS AT GSE AND BENEFIT FROM THESE FABULOUS OFFERS!
If you wish to spend these vouchers at Gateway School of English GSE we have the following options for you:
You will pay using your vouchers ONLY € 50 per week for an upgrade to Intensive English (

from 20 lessons to 30 lessons per week

), so you will be left with €20 vouchers per week to spend in Malta. This is valid for the first 4 weeks of your stay.
Usual supplement is Euro 65 per week to take extra 10 lessons per week however with these vouchers you will pay only Euro 50 per week and you will be left with Euro 20 to spend on other things.
If you choose to stay at the

GSE Residence accommodation next to school

we will offer you a 5% DISCOUNT

on the weekly rate for the first 4 weeks and you can pay your accommodation using the vouchers. Please note that the 5% discount on the weekly accommodation price for the first 4 weeks is only valid for new bookings and old bookings cannot be changed or amended. However you can still use the vouchers to pay for your accommodation when you are in Malta.
The vouchers are valid for students aged 13+ and for students staying for minimum 15 nights and arriving from 1st June 2021 onwards.
What do we need from you and how to register for this VOUCHER scheme?
VERY EASY, please fill out this form here: https://forms.gle/iKFksVX43MPGqLmK8 (please note this requires a Google account sign-in)