Coronavirus – is it safe to travel to Malta for an English Language Course? (constantly updated)
---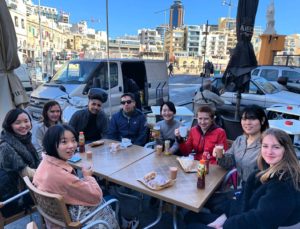 UPDATED (22nd June 2020)
This is the time to Visit Malta. This summer 2020 your perfect and safest destination to learn English is certainly Malta.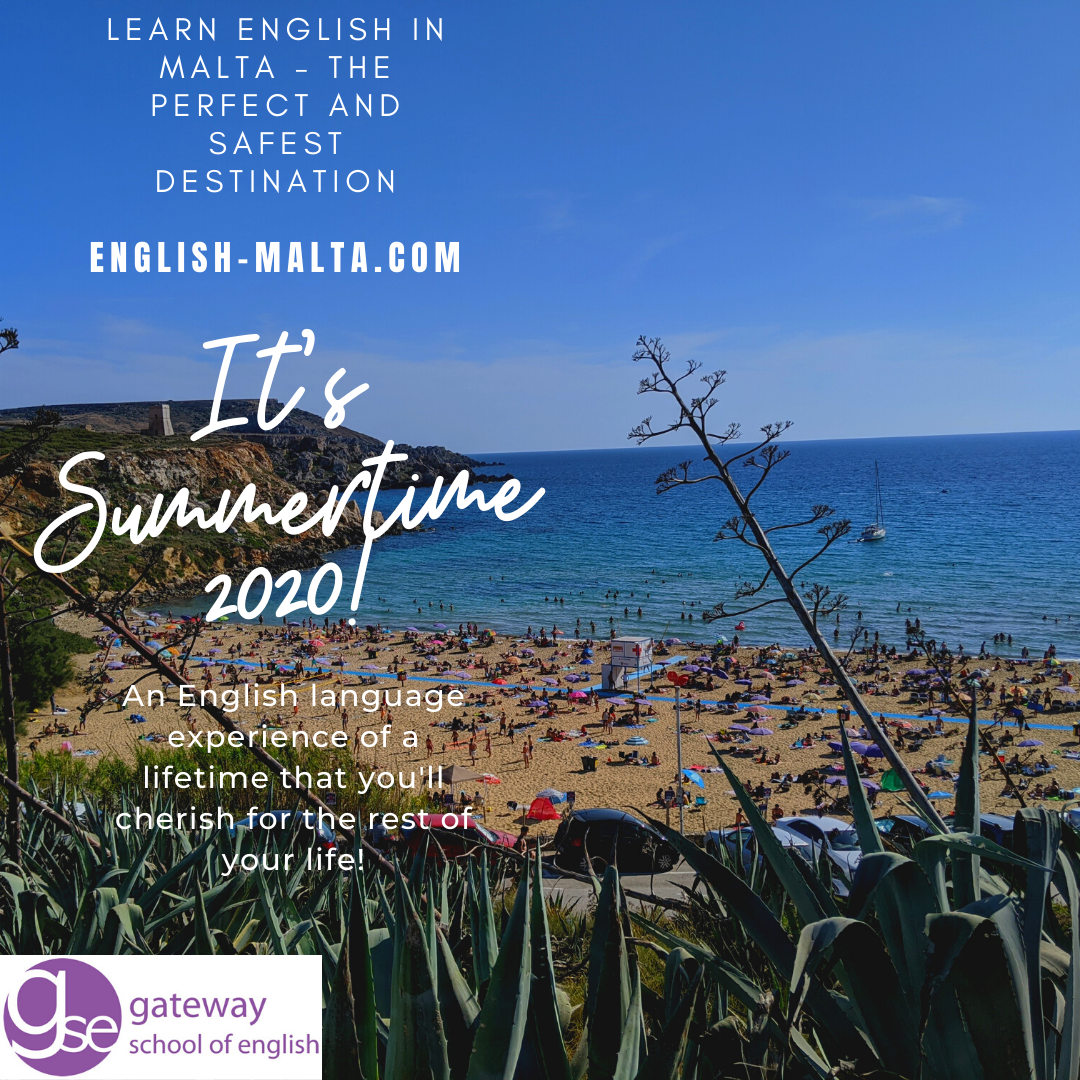 UPDATED (14th June 2020)
UPDATE: As you know the Malta International Airport will be reopening as of 1st July 2020. The first countries visitors will be able to come from (we have included countries students mostly come from) as of 1st July 2020 are the following: Croatia, Poland, France, Spain, Italy (all airports except some in Northern Italy), Czech Republic, Slovakia, Lithuania, Hungary, Switzerland, Estonia, Hungary, Austria, Luxembourg, Germany, Czech Republic. AS OF 15th JULY 2020, Visitors can come from ALL OTHER COUNTRIES NOT INCLUDED IN THE LIST of the 1st July 2020. MALTA IS NOW OPEN FOR VISITORS #studyEnglish #learnEnglish #Malta with Gateway School of English GSE this #summer2020 GSE REOPENS its accommodation on 1st JULY 2020 and lessons start on Monday 6th July 2020
Public health emergency will be lifted in the coming days which would mean the end of all remaining legal notices related to COVID-19 restrictions that were introduced in the last few months during the pandemic. This would mean the return to complete normality.
UPDATED (10th June 2020)
Check out these special offers below for the coming months. We know how hard financially these past few months were for everyone and this is why Gateway School of English GSE has decided to lower the prices for the coming months.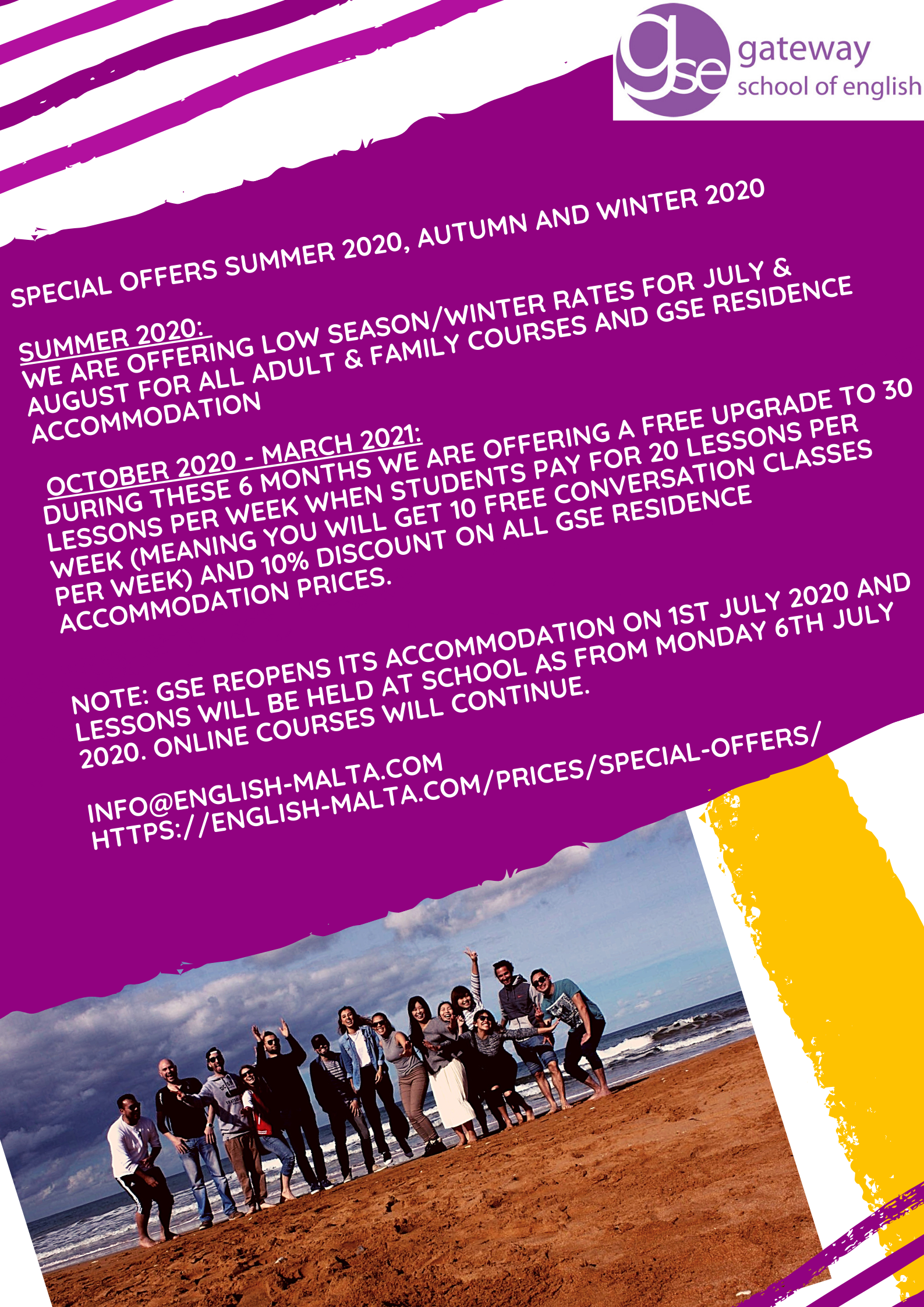 UPDATED (9th June 2020)
Tell your friends about Malta and how safe the Maltese islands are. Malta's hospital beds remained empty throughout the COVID-19 pandemic and we have excellent medical facilities. This is why Malta is one of the safest destinations this summer. It is a good opportunity for you and your friends to see Malta in a 'calmer than usual' summer as there won't be a lot of tourists this July and August. You can also benefit from WINTER RATES in JULY AND AUGUST, so cheaper rates for all Adult courses and accommodation in GSE residence this summer.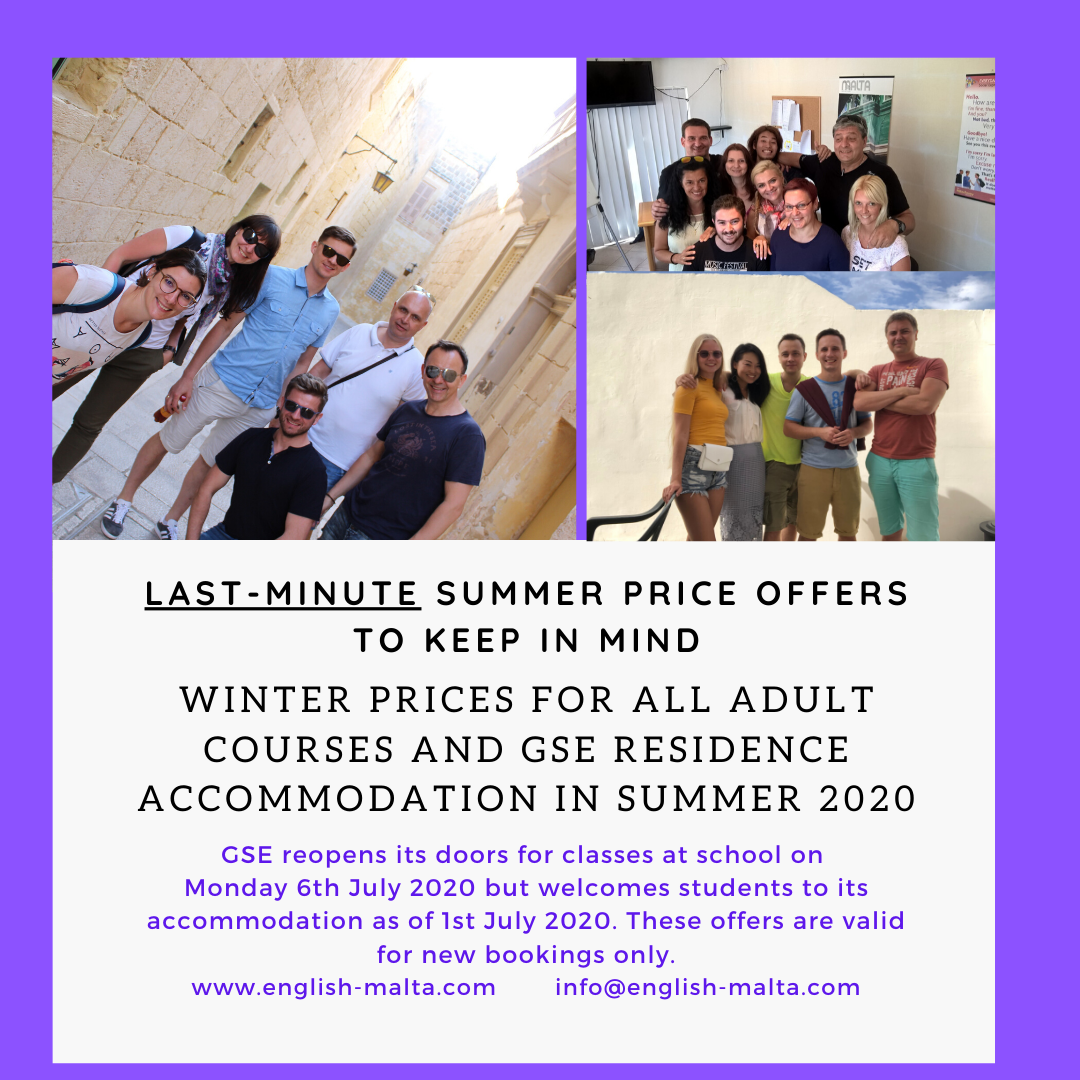 UPDATED (6th June 2020)
Below is a list of reasons why you should encourage your friends and relatives to visit Malta this Summer 2020 to learn English with Gateway School of English GSE.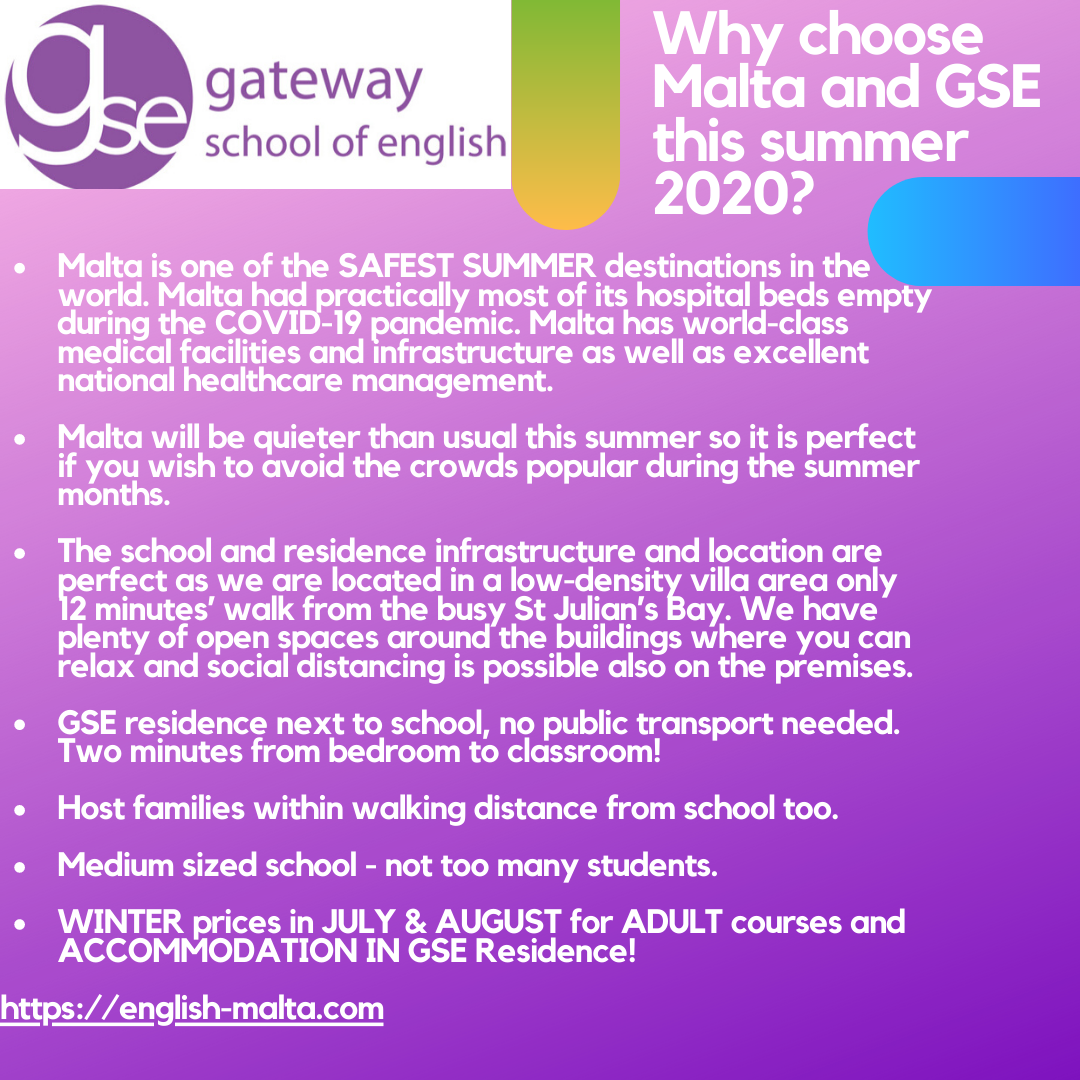 UPDATED (5th June 2020)
We will still be offering online classes and online tuition after Gateway School of English GSE reopens its doors on Monday 6th July 2020 for face-to-face classes at school.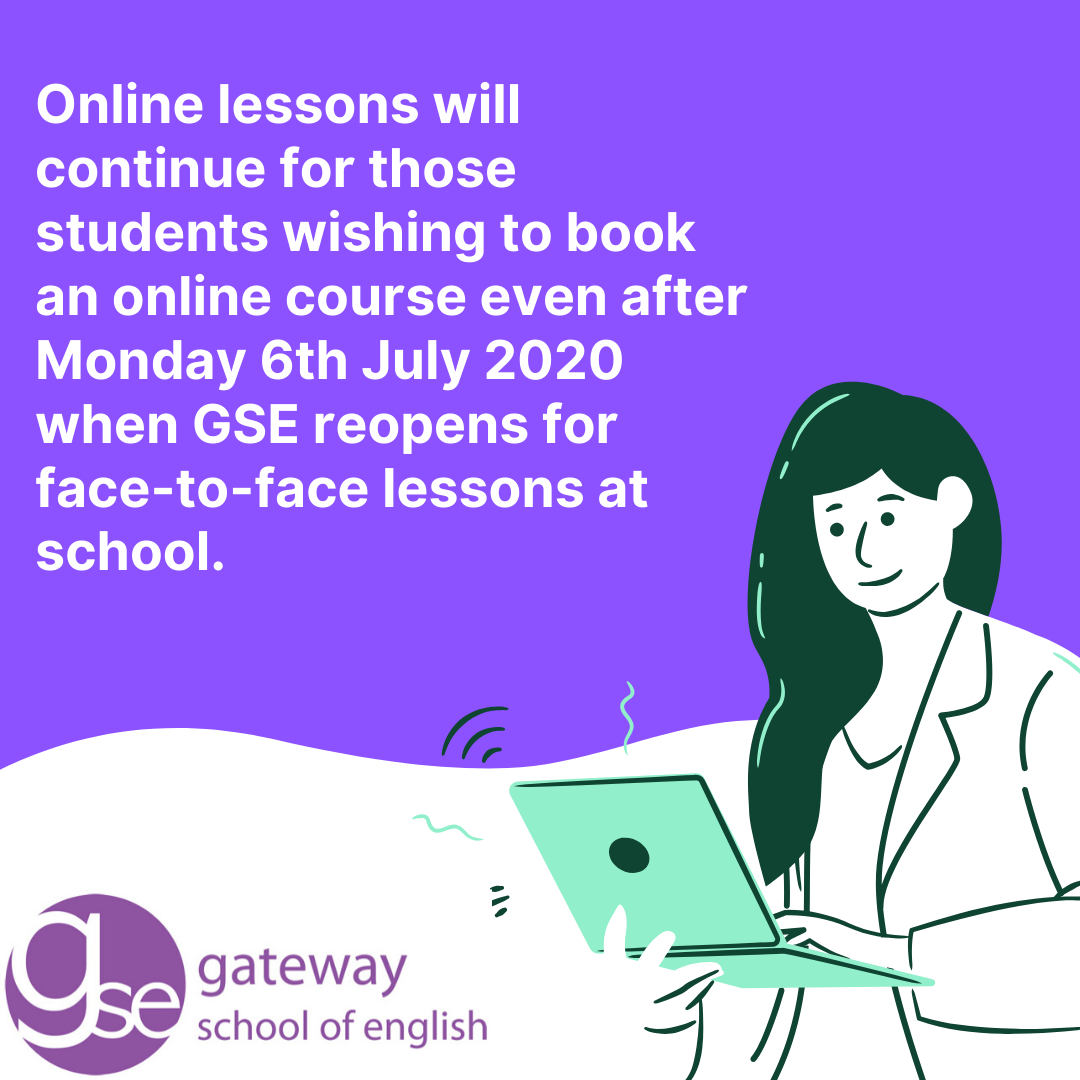 UPDATED (3rd June 2020)
Below is a list of countries from where Malta will be welcoming its first visitors for summer 2020 when the airport reopens on 1st July 2020.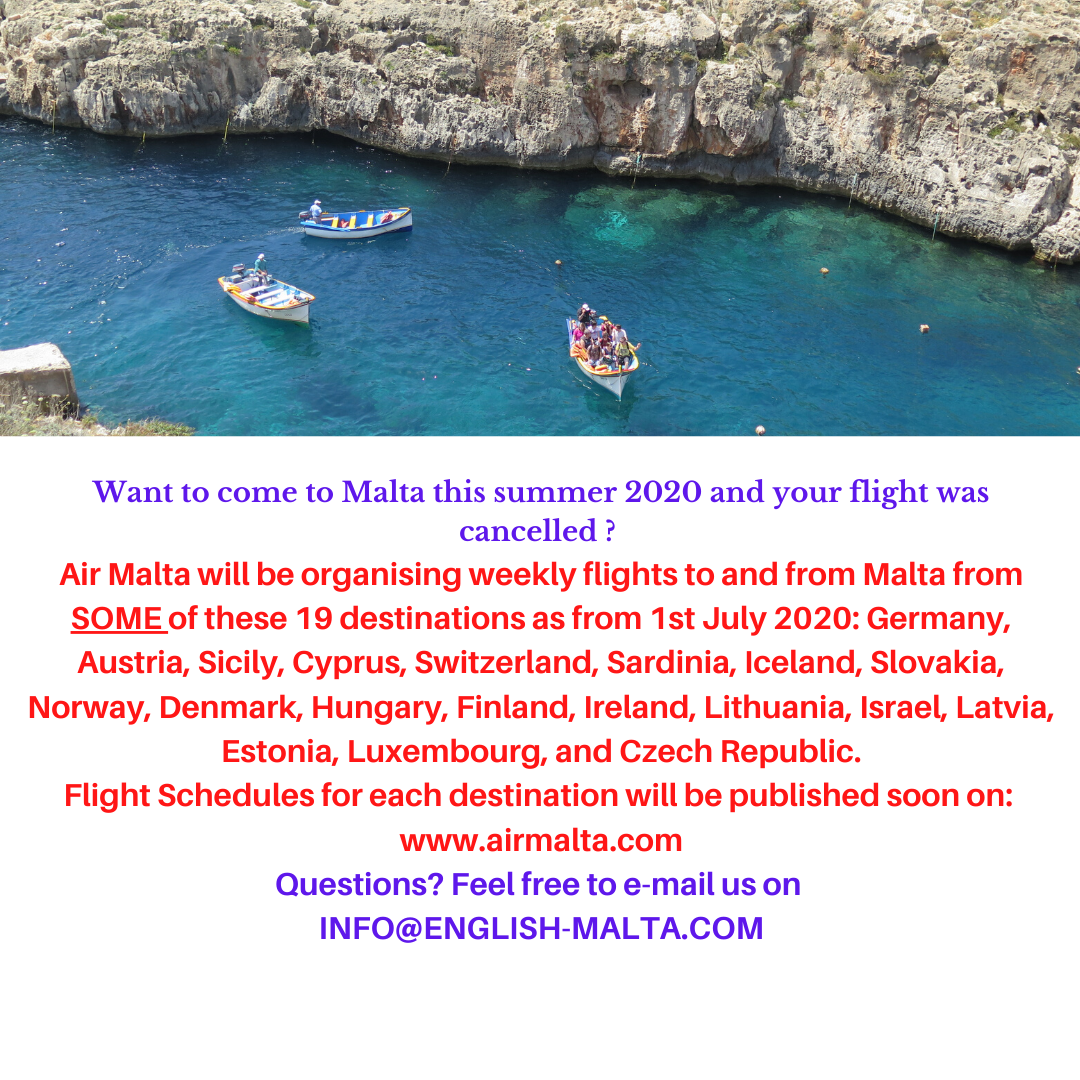 UPDATED (2nd JUNE 2020)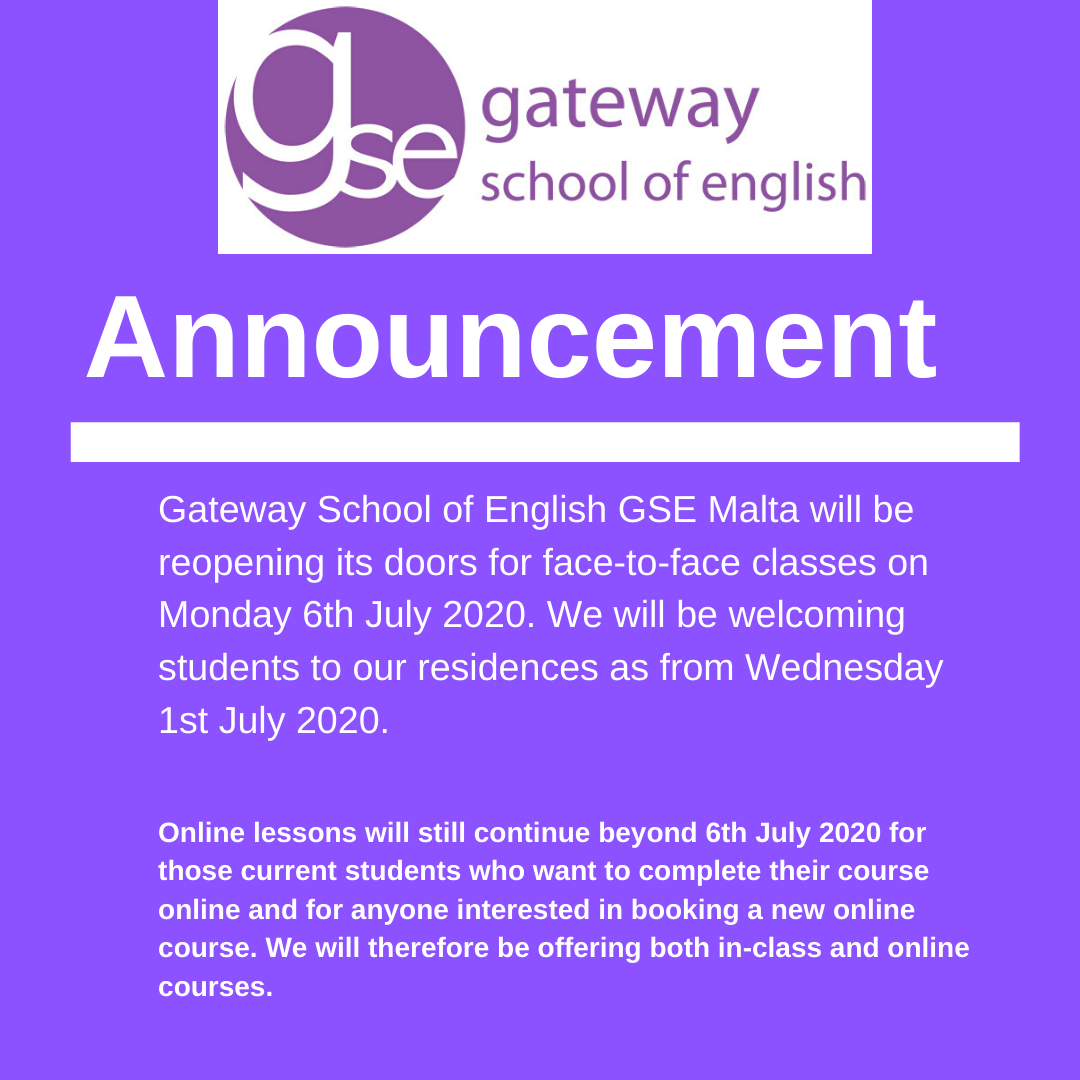 UPDATED (1st JUNE 2020)
10:00: Source: timesofmalta.com
Revealed by timesofmalta.com the first list of countries Malta will fly as of 1st July 2020 when the airport reopens:
Iceland
Slovakia
Cyprus
Lithuania
Israel
Norway
Switzerland
Estonia
Denmark
Hungary
Austria
Luxembourg
Germany
Czech Republic
Finland
Ireland
Sardinia and Sicily are also being considered while the authorities might introduce flights to Portugal and Poland at a later stage, sources added.
UPDATED (31st May 2020)
10:30am: Malta's Prime Minister Hon. Robert Abela has just announced that the Malta International Airport will reopen for flights on 1st July 2020. There is no date yet as to when the English language schools will be allowed to reopen. We will update you as soon as a date is announced.
UPDATED (30th May 2020)
Malta has been listed among Europe's recommended destinations and among the safest to travel to this summer 2020: https://www.europeanbestdestinations.com/best-of-europe/coronavirus-safest-beaches-in-europe/. Similarly Cecilia Rodriguez of Forbes also recommends Malta and its beaches as a safe destination to visit this summer.
UPDATED (24th May 2020)
With Malta in transition phase and restaurants and cafes reopening their doors this week and welcoming patrons to their establishments we are eagerly looking forward to welcoming students once again to our school this summer 2020. Read here why Malta is the safest English language learning destination and why GSE is the perfect place to be in these unprecedented times: https://english-malta.com/blog/summer-learning-coronavirus-covid-19/
UPDATED (18th May 2020)
23:00 Further easing of restrictive measures to combat COVID-19 were announced this evening as Malta enters transition phase with the return to normality taking its course over the coming weeks. This evening the Maltese government has announced that as of Friday 22nd May 2020, restaurants (including cafeterias and snack bars) may reopen but tables cannot have more than six people. Public gatherings of not more than 6 people will also be allowed meaning that the number of people that can be together in a group has gone up from 4 persons to 6 persons. Hairdressers will also be allowed to open as from Friday. Public swimming pools such as those in hotels will also be allowed to open, but the capacity of these pools has been halved, and only 50% of the people that the pools usually take can be there at the same time.
The Maltese Health Authorities insisted on the importance of social distancing so that further restrictions cam be lifted in the coming weeks.
The airport will remain shut as well as schools for the time being.
19:00 The Maltese Government is currently announcing further easing of the COVID-19 restrictions that were introduced in March.  We will be updating you soon once the press conference is over. Have a nice evening.
UPDATED (15th May 2020)
The Maltese government is to announce further easing of the COVID-19 restrictions by Monday. We will be keeping you up-to-date here with the latest news as we know that a lot of you have been asking when the airport will reopen for visitors. In the meantime we urge you to keep practising social distancing as this is important in reducing the spread of the virus and in having more measures eased in the coming days.
Below are some photos for you to dream about the beautiful islands. We would like you to post photos this weekend on your social media pages: Facebook and Instagram and tag Gateway School of English GSE. The nicest photos will be reposted on the school's social media pages.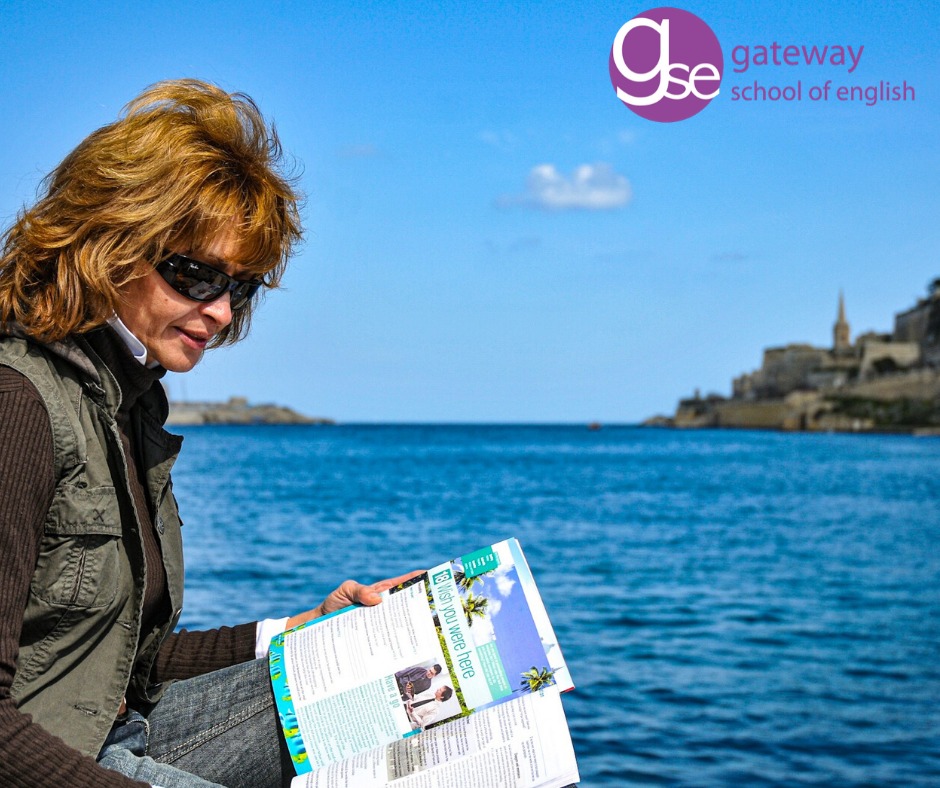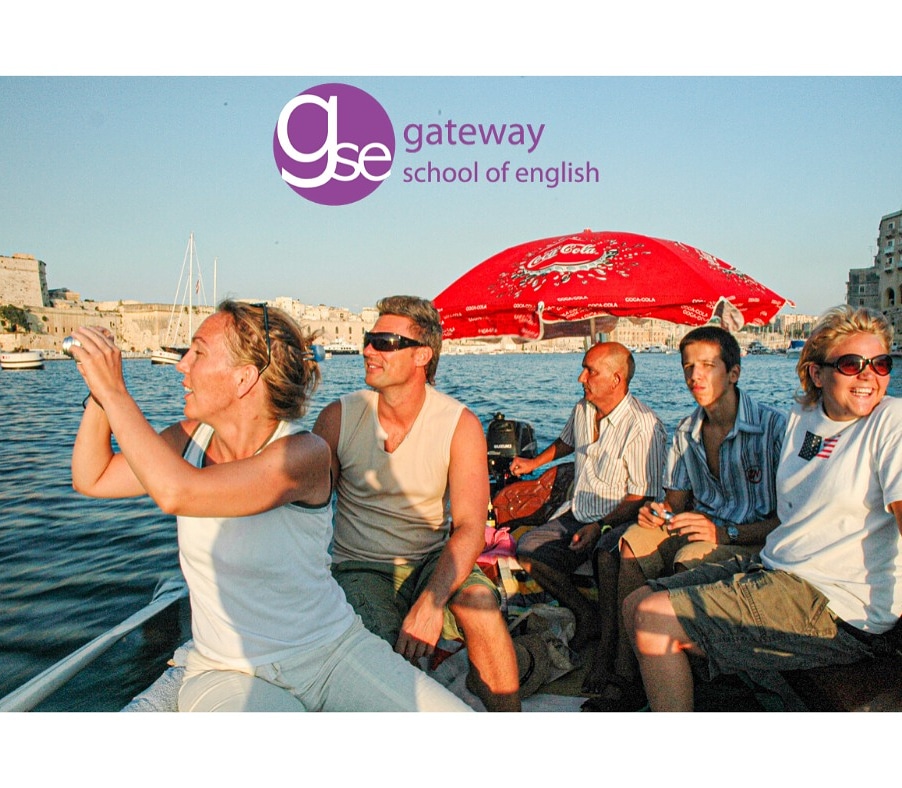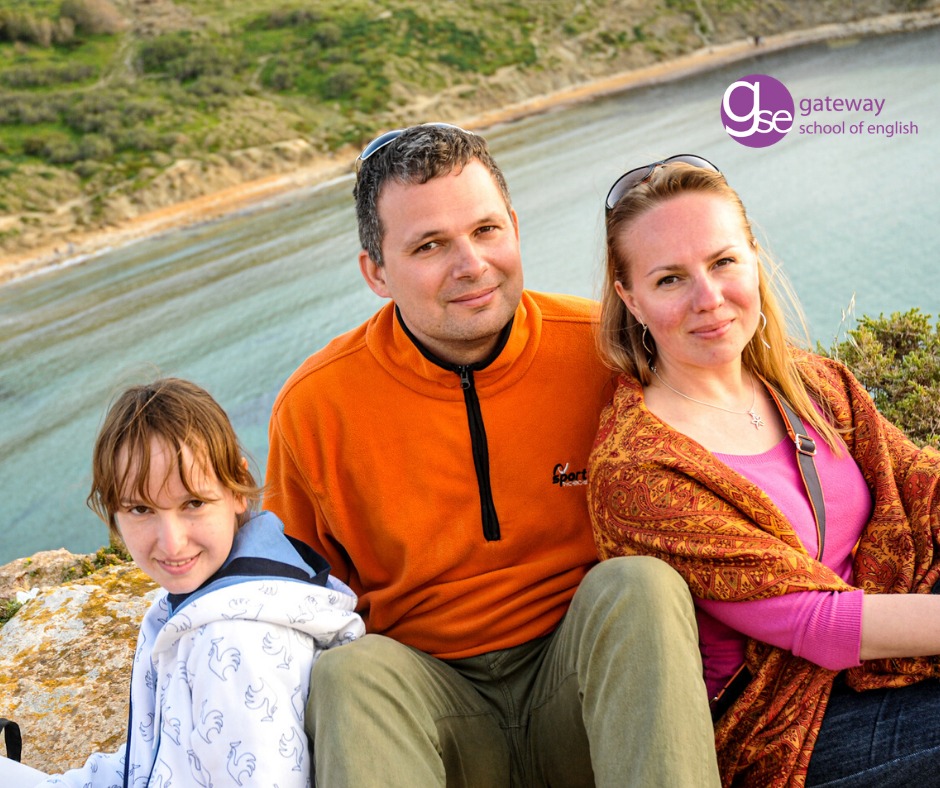 UPDATED (11th May 2020)
Here is a video of GSE teachers who are currently teaching ONLINE with GSE:
UPDATED (10th May 2020)
We wish all the mothers around the world a HAPPY MOTHER'S DAY. We thank them for their love of their children, old and young. The mother is the person who will give and do everything to see her son/daughter the happiest person in the world. Let us all remember this love and show respect to our mothers (in heaven or earth) not only today but all year round.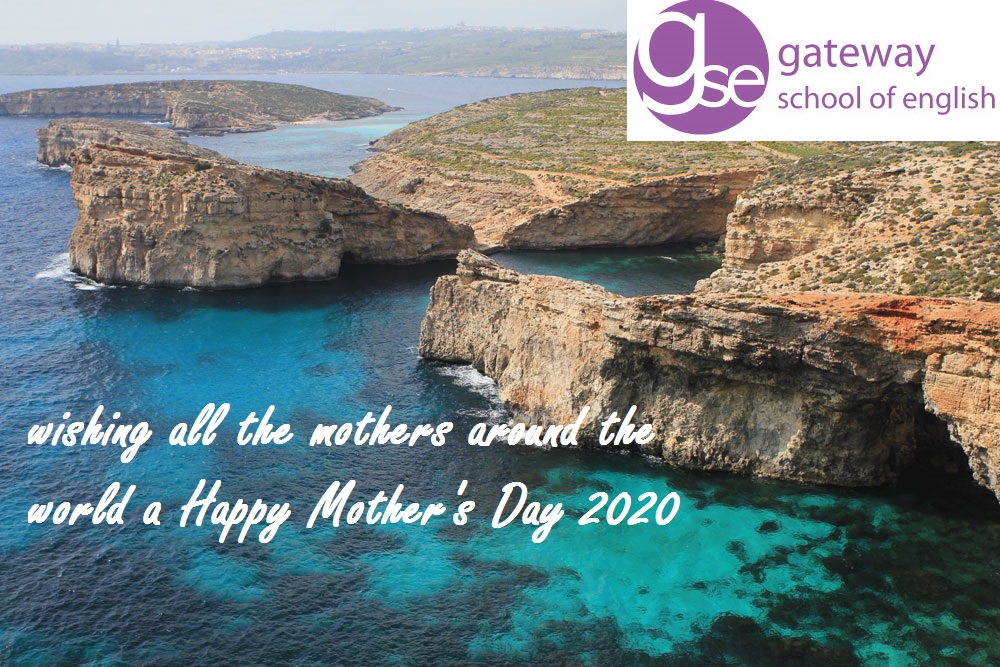 UPDATED (3rd May 2020)
Malta's deputy prime minister and Minister of Health Chris Fearne has announced that Malta will start relaxing its COVID-19 measures as of Monday 4th may 2020. Non essential shops will reopen, some health services will resume and travel to Gozo will be allowed again.
The relaxation of measures come with restrictions, including that everyone has been asked to wear a mask in shops and on public transport, to help contain the spread of coronavirus.
Hairdressers and beauticians will stay shut, as will restaurants and cafes. The airport will also remain closed, except for repatriation and cargo flights.
Below is the list of shops that will reopen on Monday:
Lotto booths;
VRT testing stations;
Clothes, handbag and shoe shops;
Jewellers;
Perfumeries and cosmetics shops;
Home decor;
Discount shops;
Toy and hobby shops;
Furniture outlets;
Florists.
Restrictions on gatherings have also been eased and people are now allowed in groups of maximum 4 people, therefore rising from 3 to 4 people. Fines will still be issued (Euro 100 per person) for those breaching this rule if they are found in groups of more than 4 people.
May we remind you that it is still VERY DANGEROUS to invite people over to your accommodation for meals or parties as the virus is still present in the community and some people may not exhibit any of the symptoms but can infect others.
Please continue to follow the Maltese Health Authorities' advice and rules. We should be grateful to them as they have done an excellent job in reducing the spread of Coronavirus in Malta and in keeping us Maltese and foreigners all safe and healthy. Let's continue helping them by following their advice and rules.
Have a great Sunday.
Some photos taken this morning in Sliema and St Julian's: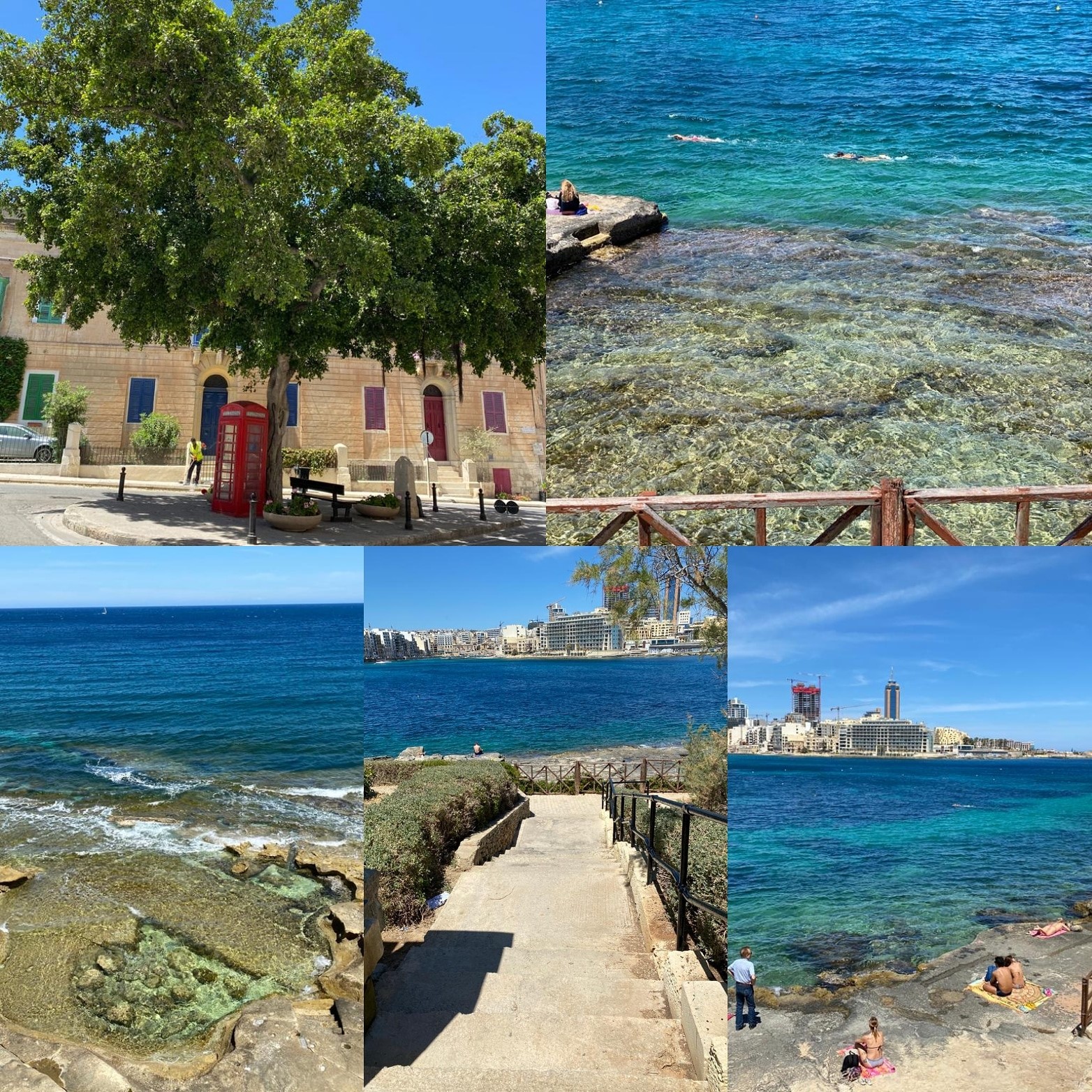 UPDATED (30th April 2020)
A reminder that tomorrow 1st May is a public holiday in Malta so online lessons will not be held tomorrow.
We remind you to keep practising social distancing measures.
A bit of nostalgia as on this night, the 30th April, eve of a public holiday, every year Malta organises the final show of the International Fireworks Festival in the Grand Harbour. The video below shows part of the spectacle which took place last year. This year's show was cancelled due to the ongoing Coronavirus pandemic. Hope you feel nostalgic while watching the video below.
Wishing you all a Happy Long Weekend! Stay Safe!
UPDATED (27th April 2020)
Good morning! It's a warm and sunny Monday as we bid farewell to April and welcome May 2020 this week. Friday 1st May is a public holiday and therefore online lessons will not be held this Friday.
We wish our Muslim students and followers from around the world a blessed Ramadan, Ramadan Mubarak & Ramadan Kareem  رمضان سعيد ! We know it's not easy celebrating Ramadan in these difficult times but let's hope the world will overcome this pandemic and will emerge stronger and more united than ever before.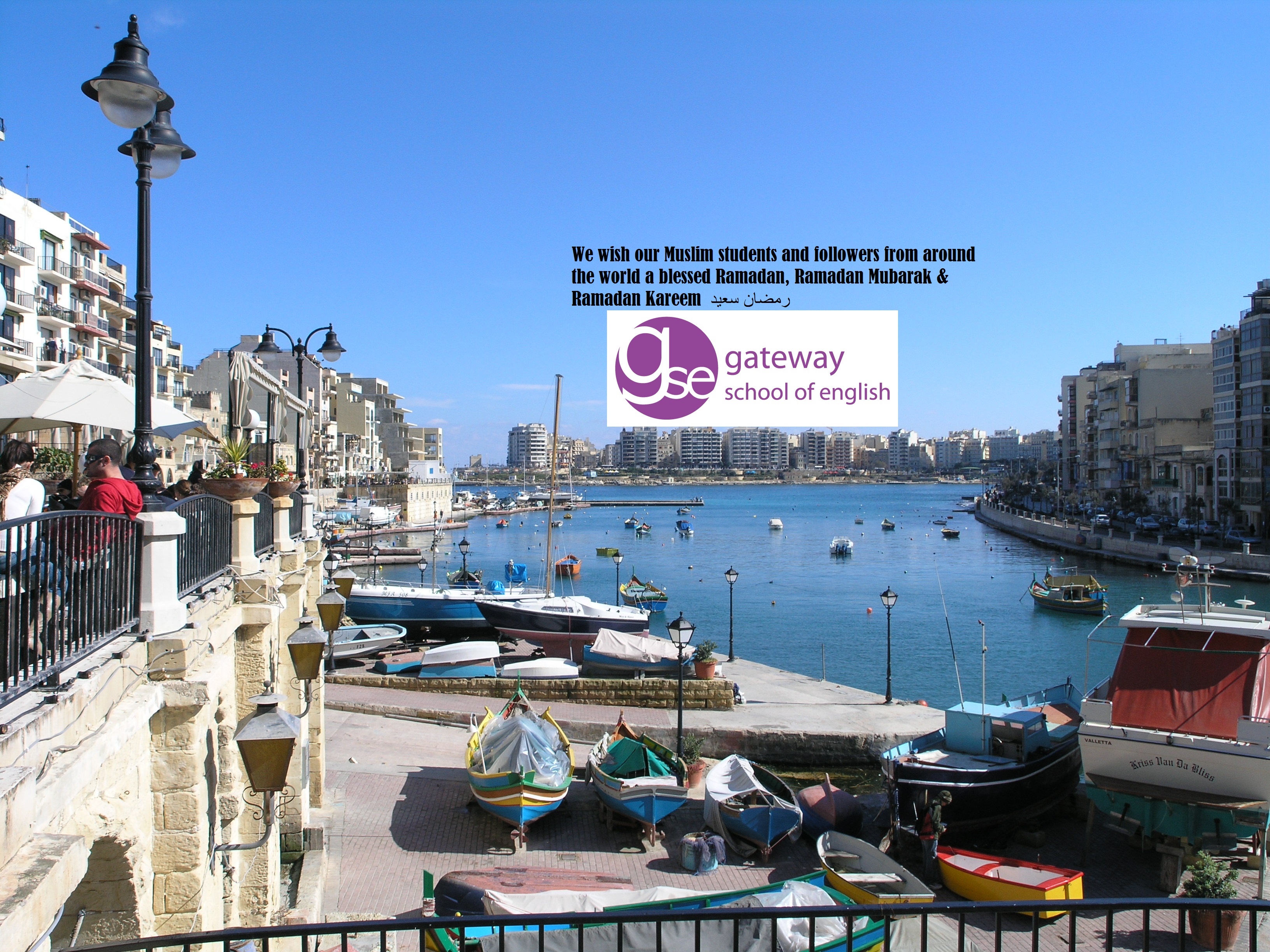 Wishing you all a great week ahead, be strong, stay positive, stay safe and PRACTISE SOCIAL DISTANCING!
UPDATED (26th April 2020)
For the first time since the pandemic started Malta reports zero cases in 24 hours meaning that there were no cases of COVID-19 registered in the last 24 hours. https://www.reuters.com/article/uk-health-coronavirus-malta/malta-reports-no-new-covid-19-cases-for-first-time-since-crisis-began-idUSKCN2280HL
This doesn't mean that Malta has won the battle against the Coronavirus. Therefore it is very important that we still follow the guidelines issued by the Health Authorities especially when it comes to social distancing rules (you cannot gather in groups or visit friends or meet groups of friends; there are also fines if you do not follow the social distancing rules and groups of  4 persons or more will be fined Euro 100 each if caught by the police) so that we can reduce the spread of community infection as the virus is still ongoing and this doesn't mean that the Maltese islands are free from the Coronavirus. It is certainly good news and augurs well for the coming weeks and shows that the situation in Malta is under control and we can see the light at the end of the tunnel.
On a different note we are experiencing gorgeous Maltese weather and here is our latest Instagram post, a video that was taken today (Sunday) in Marfa, a beautiful bay in the Northern most point on the main island:
UPDATED (22nd April 2020)
Gateway School of English GSE is now offering IELTS exam preparation courses ONLINE for the special price of Euro 75 per week for 10 lessons per week. Should you wish to know more please don't hesitate to contact us [email protected]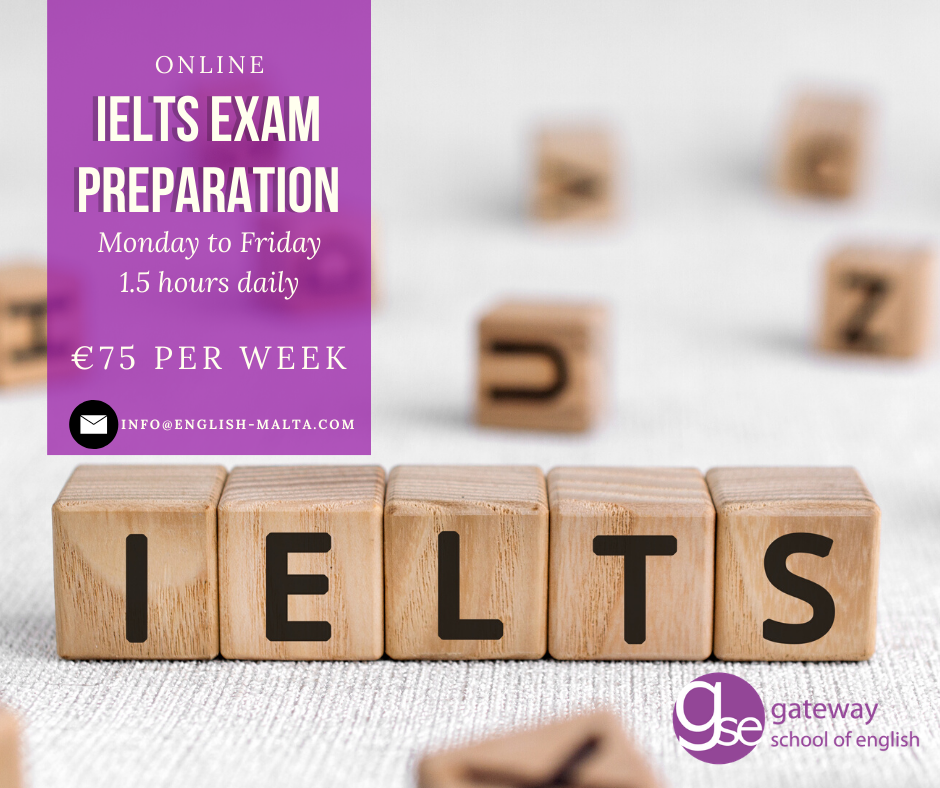 UPDATED (20th April 2020)
Well done Visit Malta and the Malta Tourism Authority for this amazing video…bright days shall return! But for now..Dream Malta (watch video below)
UPDATED (19th April 2020)
Wishing all our Russian speaking students and followers a HAPPY ORTHODOX EASTER.  Христос воскрес!
For those of you who are taking online courses we have posted in each classroom a reminder regarding one to one tutorials via Whats App. You can now get in touch with our DOS and we will get back to you with a day and time when you can make a Whats App call with our Director of Studies to discuss your academic needs:Malta today registers only 1 case of coronavirus indicating that Malta's health authorities are succeeding in their fight against COVID-19 and managing to flatten the curve as much as possible. This is good news for Malta, however we still need to stay indoors as much as possible until the health authorities will advise otherwise.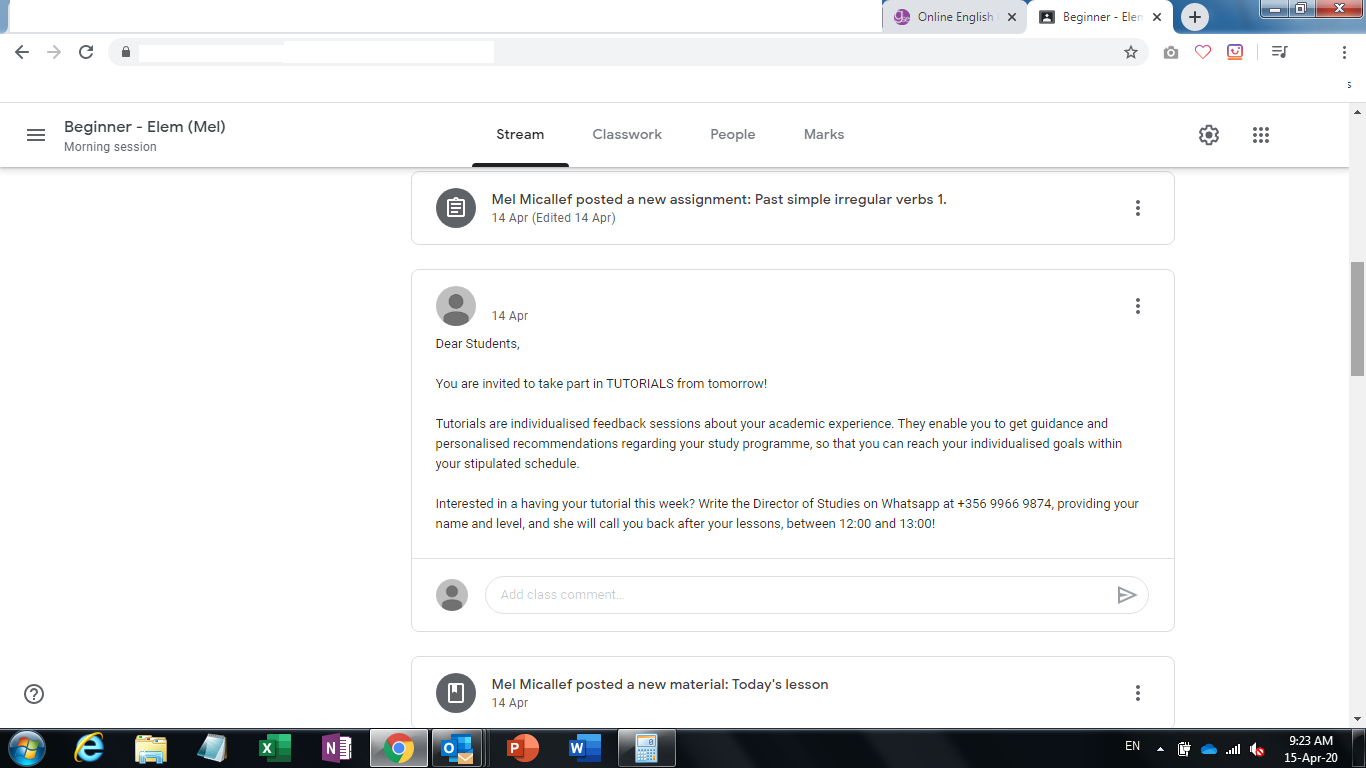 We have also launched online courses for kids for only Euro 40 per week for 10 lessons per week (7.5 hours per week) which are held in the afternoon between 1pm and 2:30pm. This is a great opportunity for kids to keep up with their English while they are away from school or if they wish to take extra classes after school (for those kids who will resume classes after the lockdown is lifted). You can email us for more information: [email protected]
Today Malta registers only one new case of Coronavirus today meaning that the Maltese Health Authorities are succeeding in their flight against COVID-19. Malta also has one of the highest recovery rates in Europe. Malta is therefore successfully managing to flatten the curve however it is important that we continue following the health authorities' advice and stay home as much as possible.
UPDATED (14th April 2020)
We take this opportunity to thank the Maltese Health Authorities and all the medical staff and professionals at our hospitals for their hard work and dedication in containing the spread of the Coronavirus. The World Health Organisation WHO has commended Malta's response to the COVID-19 outbreak. WHO European regional director Hans Kluge says Malta is a 'country to follow' as he praises the measures introduced to fight the spread of coronavirus in Malta: https://www.maltatoday.com.mt/news/national/101340/coronavirus_who_regional_director_praises_maltas_public_health_measures#.XpX87f0zbIU
Malta also has one of the highest COVID-19 testing rates in the world and is listed among the top three countries:
https://timesofmalta.com/articles/view/malta-covid-19-testing-rate-is-among-top-three-in-the-world-data.785597
From an economical point of view we also have good news for Malta as the country's economy is set to shrink by only 2.8% in the pandemic year which is the least decline in the EU. The IMF (International Monetary Fund) forecasts a 2.8% contraction in the Maltese economy – the least impact that COVID-19 had had amongst all EU countries, with recovery of 7% in 2021 https://blogs.imf.org/2020/04/14/covid-19-crisis-poses-threat-to-financial-stability/
https://www.maltatoday.com.mt/news/national/101696/maltese_economy_to_shrink_by_28_in_pandemic_year_of_2020#.XpYhKP0zbIU
In the meantime we still URGE YOU TO STAY AT HOME and DON'T MEET FRIENDS LIVING IN OTHER HOUSEHOLDS OR ACCOMMODATION AS THIS WILL PUT YOU AND OTHERS AT RISK OF GETTING INFECTED.
Although the containment measures of the Maltese health authorities are bearing fruit, this doesn't mean that the fight against Covid-19 is over. We still have to follow the rules so that in a few weeks we will be in a better position to return to everyday life, however if we relax safety precautions now we will suffer later and it will take even longer for life to go back to normal.
STAY SAFE, STAY HOME, DON'T MEET FRIENDS and WE TEACH YOU ENGLISH ONLINE!
UPDATED (11th April 2020)
Read our recent blog post about the importance of online English learning during COVID-19 crisis and while you're in quarantine. Here's the link: https://english-malta.com/blog/online-courses-school-gse/
UPDATED (10th April 2020)
We wish you and all your loved ones around the world a very Happy Easter and we urge you not to organise any get together or gatherings this year to avoid the spread of the COVID-19 Virus.
UPDATED (9th April 2020)
UPDATE 17:00
The Maltese government is inviting all foreigners stranded in Malta to apply for repatriation flights. This can be done online by registering your interest here: https://foreignandeu.gov.mt/apply  by SUNDAY 19th APRIL.
More information can be found here: https://timesofmalta.com/articles/view/foreigners-stranded-in-malta-invited-to-apply-for-repatriation-flights.784523
9:00am Good morning. A gentle reminder that tomorrow 10th April is a public holiday so lessons won't be held online. We take this opportunity to wish you all a HAPPY EASTER. Please be responsible and don't organize any gatherings whether indoors (at your home) or outdoors as this would put you and others in danger of getting infected. Malta yesterday announced its first coronavirus death, a 92 year old woman from Gozo and today a second person died from COVID-19, a 79 year old man. https://timesofmalta.com/articles/view/second-maltese-victim-succumbs-to-covid-19.784403
May we also remind you that should your Visa be expiring soon you are requested to get in touch with us as soon as possible. The Visa procedure has to be done through school and you cannot go directly to the Central Visa Unit. Please send us an email: [email protected]  We will guide you through the process.
Information regarding the new Visa procedure is explained in our COVID-19 FAQs: https://english-malta.com/prices/frequently-asked-questions/covid-19-crisis-frequently-asked-questions/
UPDATED (6th April 2020)
Coronavirus cases in Malta: There are currently 241 Coronavirus cases confirmed in Malta https://timesofmalta.com/articles/view/watch-live-daily-update-on-coronavirus-cases-in-malta.783737
We stress the importance of staying at home and staying safe and please avoid going out to meet friends as much as possible as this would put you in a higher risk of getting infected.
As you know GSE is offering online tuition to its students and now we started offering these online courses to students who are abroad and not necessarily in Malta. So if you have friends or relatives who would like to study English while in quarantine at home tell them to get in touch with us on [email protected]
Prices for online courses can be found here: https://english-malta.com/english-courses-malta/online-courses/
GSE will continue offering online courses option even after the COVID-19 crisis when classes resume at school so students will have the option to attend online courses or attend classes held at the school and experience Malta.
UPDATED (1st April 2020)
Update regarding Visas: Please note that the Central Visa Unit will not be accepting students' applications directly from students but all documents are to be sent to the school. In the meantime to keep you well informed on the new procedures we have created a page dedicated to FAQs in relation to the COVID-19 crisis as well as information regarding the new Visa procedure.
UPDATED (31st March 2020)
Today is a public holiday in Malta: Freedom Day. Kindly note that lessons will not be held today and we will resume online classes tomorrow, Wednesday 1st April. In the meantime please take care, stay healthy, wash your hands regularly and follow the health authorities' advice.
UPDATED (30th March 2020)
PLEASE NOTE THE FOLLOWING Groups of four or more people caught in public by the police will be fined €100 each, under new laws being introduced to enforce coronavirus social distancing measures. https://timesofmalta.com/articles/view/watch-live-home-affairs-minister-announces-new-coronavirus-measures.782042
We stress the importance of social distancing and staying away from people. We are still in time to save Malta from this deadly virus if ALL OF US COOPERATE and FOLLOW THE INSTRUCTIONS ISSUED BY THE HEALTH AUTHORITIES. Please keep washing your hands and stay at home, don't go out if possible. Together we can beat COVID-19 and make Malta a the lovely place we know it.
TOMORROW 31st March is a public holiday so lessons won't be held tomorrow.  We will see you again online on Wednesday morning.
UPDATED (29th March 2020)
The Ministry of Education has informed us that the public/state schools' closure extension until end of June applies to ALL Schools, including English Language schools. Therefore the school shall remain closed until the end of June. As most of you know already GSE is providing online courses / tuition during this temporary closure. Should you have any questions please feel free to get in touch with us here: [email protected]
In the meantime please stay safe and REMEMBER you need to isolate yourself and NOT MEET PEOPLE. We recommend that you stay home and not go out unless it is absolutely necessary.
UPDATED (27th March 2020)
13:00
Coronavirus updates: Please note that as from yesterday, the police have been granted legal enforcement to break up public gatherings of more than five people, ensuring they stand at least two metres away from each other.  Here we emphasise the importance of social distancing and self isolation. This is key in combating the virus and reducing the spread of the infection.
On a different note OUR ONLINE LESSONS WILL CONTINUE IN THE COMING WEEKS while the school is temporarily closed. We started offering our online lessons also to students who are not necessarily in Malta but are confined to their homes in their country and wish to improve their English. We are offering courses for all ages even for kids. The advantage with our online lessons is that students will have the same GSE teachers they will have when they study with us in Malta. So spread the word among family and friends and tell them about our online courses.
Since we are providing online courses to students who decided to remain in Malta during the COVID-19 crisis we will not be issuing any more credit notes or vouchers for the remaining weeks as students have the opportunity to continue the course online. This was the best alternative we could offer and those students who are taking the online course know that our teachers do their best to make the class look as real as possible and that there is a lot of interaction even if this is online.  Also students requiring a Visa to stay in Malta will be having their Visas renewed on condition that they will follow the online course offered by the school.
STAY SAFE, AVOID GATHERINGS, SELF ISOLATE, DISTANCE YOURSELF FROM FAMILY AND FRIENDS and WASH YOUR HANDS REGULARLY.
If you need to speak to us any time we are here for you, have a nice weekend from the GSE Team.
#stayhome #staysafe #weteachyouenglish
UPDATED (24th March 2020)
11:00: Good morning. As you probably already know non-essential shops and services were shut as of Monday (yesterday) morning and this includes clothes shops, sportswear, jewellery, hand bags and leather goods, costume jewellery and accessories, footwear, non-prescription eyewear, perfumeries, beauty products, haberdasheries, soft furnishings, household appliances, souvenirs, discounted items, luggage, toys, hobbies, furniture, florists and vaping.
Other outlets providing non-essential services which had to close were hairdressers, barbers, beauticians, spas, nail artists, nail technicians and tattooists.
Also we have an update from the Central Visa Unit for those students who will be renewing their Visa:
The CVU will be ISSUING Visas for those students who are attending online lessons.
This is the latest update from the CVU, if there are any changes later on we will let you know here.
Please keep following this blog.
A GENTLE REMINDER: KEEP WASHING THOSE HANDS and AVOID CONTACT WITH PEOPLE, ISOLATE YOURSELF as SOCIAL DISTANCING IS IMPORTANT SO THAT TOGETHER WE CAN BEAT COVID-19
UPDATED (21st March 2020)
09:00: Good morning. As you probably know the school will be closed again next week and lessons will be held online. We will be moving some students to other classrooms so please check your email inbox for your new invite. If you don't receive the e-mail that means your classroom hasn't been changed.
In the meantime we wish you a nice weekend and please stay safe, wash your hands very often and keep away from large gatherings and crowds. As you know all restaurants, cafes and public places are currently closed so we recommend you stay home and speak to family and friends online as well as practise your English online too.
UPDATED (19th March 2020)
09:00:  Good morning. Today is a public holiday in Malta. Lessons will not be held online today. We have the following recommendation to students who are currently with us in Malta or those who follow us around the world: Social distancing is the key to combat this virus and eradicate it as early as possible. We recommend that you (wherever you are around the world) will keep away from crowds, gatherings, groups etc. and isolate yourself as much as possible. This is only a temporary measure. If we can do this we will beat Coronavirus as early as possible and avoid serious repercussions later.
UPDATED (18th March 2020)
17:30:
Notice from the CVU Central Visa Unit:
Students who need to apply for regular visa extensions and have their visa expiring as from next week until mid-April should contact us (the school) as soon as possible. Please send your email to [email protected]
09:00am
Please note that end date for Schools' closure has been specified until 17 April 2020,

further changes may be announced by Health Authorities as the situation develops.

Malta to ban all incoming and outgoing flights as from Saturday 21st March 2020

, flights departing before 23.59 UTC on the 20th March 2020 are exempted.
https://timesofmalta.com/articles/view/malta-to-ban-all-incoming-flights-from-saturday.778988
GSE is providing the following alternatives to students who cannot travel to Malta because of the flight ban:
to change the date of your course and accommodation to a later date (high season supplements apply)
changes of dates, even last minute ones will be made at no extra charge; no cancellation fees apply in this case
if you don't know the period when you can travel to Malta we are providing credit notes/vouchers which can be used/redeemed (non transferable: that means it cannot be given/passed on to friends or relatives) during a period of two years and you can come to Malta and take your course and accommodation which you paid/booked any time.
UPDATED (17th March 2020)
We apologize for the slight technical difficulties we encountered yesterday which was our first day providing Online Classes. We promise you that today, Tuesday, will be a smoother day and we also hope you will enjoy your second day of online lessons with us. Please don't forget to follow the step by step guide we included below to join the online classroom.
UPDATED (16th March 2020)
08:00: OUR ONLINE CLASSES START TODAY!
Good morning everyone. Remember to log in from the email we sent you yesterday for the online classes and go to your Google Calendar to join the session.  Here is a step by step guide for you to join this morning's session:
6 simple steps to join the GOOGLE online classroom – GSE Malta
If you haven't received an email with the invitation to join the classroom please send an email to [email protected]
UPDATED (15th March 2020)
18:00: Good evening everyone. By now you should have received an email inviting you to join the online classroom. Those who haven't received the invitation yet please send us an email with your name and surname to [email protected]  We look forward to seeing you all online tomorrow morning! Have a nice evening. The GSE Team
12:00:
Message from GSE below:
Dear Student,
In light of the current uncertainty over the coronavirus which has put day-to-day life on hold for so many of us around the world as we simply wait and spectate from the sidelines, we at Gateway greatly regret the inconvenience caused by the authorities' instructions to temporarily close the school. This decision was entirely beyond our control but was clearly made in the best interests of all parties involved, including yours.
To compensate for this inconvenience, we are working hard to provide you with an alternative to having lessons at the school. Instead, lessons will be TEMPORARILY  held online so that you will still be able to follow your course with us. All you need to do to join the online class (you will be receiving an email later on today) is follow the simple step-by-step instructions in the guide below (see link below).
Our online platform is Google Classroom and Google Hangouts so you will need to create a Google account or log on to your existing account if you already have one (if you don't have Google hangouts/meet as an App please download it from the store). The online lessons follow the usual school timetable and will therefore be held at the same times as they were at school. You can check the Google Calendar to see the exact times of your lessons.
Please make sure you click on the calendar event (as you have it mentioned in the step by step guide) and you have to click join Hangouts on the day and time the lesson will be held.
We hope that the experience will still be of benefit to you and will help keep you going in your efforts to learn and improve your English. In spite of the limitations imposed by the challenging times we are facing right now, this is one of the advantages of living in the 21st century – that we can still stay connected, overcome certain obstacles and achieve some success in the confines of our own homes.
So remember to stay positive, be safe and keep well. We look forward to seeing you online.
Karl Sammut on behalf of the The GSE Team
PLEASE CLICK ON THE LINK BELOW TO DOWNLOAD THE GUIDE ON HOW TO JOIN THE ONLINE CLASSROOM:
6 simple steps to join the GOOGLE online classroom – GSE Malta
08:00: Good morning from GSE. We are working hard to provide you with an alternative to lessons at school since the school will be closed next week due to a Government directive and this might be extended to the following weeks as well. We will be announcing such an alternative later on today. Each student who is currently studying at GSE will receive an email update later on today with all the necessary information. Hope you're all staying safe and please obey all government/public health authority directives and rules regarding COVID-19 to minimise the spread of infection. Wishing you all a good Sunday.
UPDATED (13th March 2020)
21:00: 
Please note the following update from the Central Visa Unit:
Students who have their passports at CVU are advised to collect them on Monday morning(16/03) because at this stage it is safer for students to have passports with them in case the country goes on lock down;
Students who need to extend visa due to the fact they cant go back home because their flight was cancelled and there is no other alternative flight available, can visit visa offices for their visa to be extended;
The Visa office will be open as usual next week until further notice, however, only emergency services above will be handled, submissions of visa applications are suspended until further notice.
13:00 Quarantine has been extended to all arrivals to Malta from all the countries in the world. In other words all passengers arriving to Malta have to undergo mandatory quarantine for 14 days. Failure to do so will incur penalties of €1,000 for every day which is breached and police will carry out spot checks to make sure it is being observed.
UPDATED (12th March 2020)
19:00 Although lessons will not be held at school until Friday 20th March 2020, our offices will remain open during office hours from 8 am until 8 pm Monday to Friday. Students whose last day of school is tomorrow Friday 13th March can collect their certificates from the school's office preferably before 4:30pm.
18:00 GSE will be TEMPORARILY CLOSED from tomorrow until 20th March 2020 as per Government directive given this afternoon, this is effective as from tomorrow until Friday 20th March and may be extended accordingly as the situation develops. Lessons will resume on Monday 23rd March 2020.
10:30 Two new Coronavirus cases were reported this morning, bringing the total to 9 case which were all imported from abroad. Both persons are foreigners who work in Malta. We stress the importance of self quarantine when returning from abroad especially from those countries which are high risk and IT IS IMPORTANT TO ISOLATE YOURSELF IMMEDIATELY IF YOU FEEL UNWELL. This way you will reduce the risk of spreading the infection to others who might be living with you or sharing the same apartment.
9:00: Mandatory quarantine is required for students entering from one or more of the countries according to the dates shown below: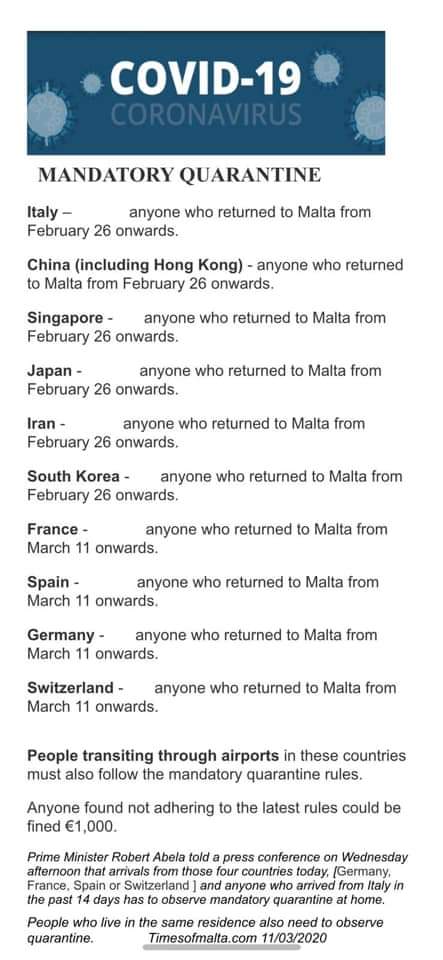 UPDATED (11th March 2020)
Fifth Coronavirus case confirmed in Malta: https://newsbook.com.mt/en/fifth-coronavirus-case-confirmed-in-malta/
Sixth coronavirus case is a 55-year-old Maltese man: https://timesofmalta.com/articles/view/sixth-coronavirus-case-confirmed.777254
Important update (11/03/20): Travel between Malta and Switzerland, Germany, France and Spain is being banned as from midnight tonight, the government has announced.
The same restriction already applies for travel from Italy.
Prime Minister Robert Abela told a press conference on Wednesday 11th March in the afternoon that arrivals from those four countries today, and anyone who arrived from Italy in the past 14 days has to observe mandatory quarantine at home. People who live in the same residence also need to observe quarantine. Tourists have to stay in their hotel rooms.
Spot checks will be made and anyone failing to observe the order will be subject to a €1,000 fine.
Seventh Coronavirus case confirmed: https://www.maltatoday.com.mt/news/national/100941/family_member_of_doctor_diagnosed_with_coronavirus_is_seventh_case#.XmoBcnJKgdU
UPDATED (10th March 2020)
UPDATED (7th March 2020)
CORONAVIRUS HELPLINE: +356 111
or visit the website: https://deputyprimeminister.gov.mt/en/health-promotion/Pages/Novel-coronavirus.aspx
Below are a few rules which we have introduced recently at our school to ensure the well-being of our students currently attending English language courses with us:
We are constantly reminding students to wash their hands with soap for at least 20 seconds or use alcohol-based hand
gel dispensers in classrooms and common areas to reduce the chances of contamination.
We are reminding students to cover their mouth when coughing with a tissue, or sleeves. We are stressing the importance of personal hygiene.
Those students who feel unwell or look sick are being asked to leave the classroom and the school so as to reduce the chances of spreading the infection.
Those students staying at the GSE residence or in the school apartments who feel unwell are being isolated in separate rooms to minimize the chances of spreading the infection/illness.
Students arriving from countries where cases of Coronavirus have already been discovered are being asked to self quarantine in a room on their own for a few days before starting classes and any missed lessons will be compensated on other days.
We are thoroughly cleaning with alcohol based detergents, more concentrated than usual, all surfaces and furniture in the classrooms, common areas and bedrooms at the GSE residence to reduce the risk of contamination.
Below is a video published by the World Health Organization on what people can do to protect themselves from the Coronavirus infection:
At GSE we are taking all the necessary precautions and we assure you that we will keep on doing this as we believe that our students' health and well being comes first and should be given priority while they are studying English with us in Malta.
At the same time we still believe in diversity and multiculturalism and the importance of having an international environment in both inside as well as outside our English language classrooms. Thus we are encouraging students from all over the world to still travel to Malta to learn English with us instead of cancelling their trip. There is no reason to panic about the outbreak and such times require that people remain vigilant and calm and at the same time go about their planned activities.
Should you wish to ask us any questions regarding your planned trip to Malta please don't hesitate to send us an email: [email protected]   
We look forward to seeing you in Malta and to welcoming you to GSE.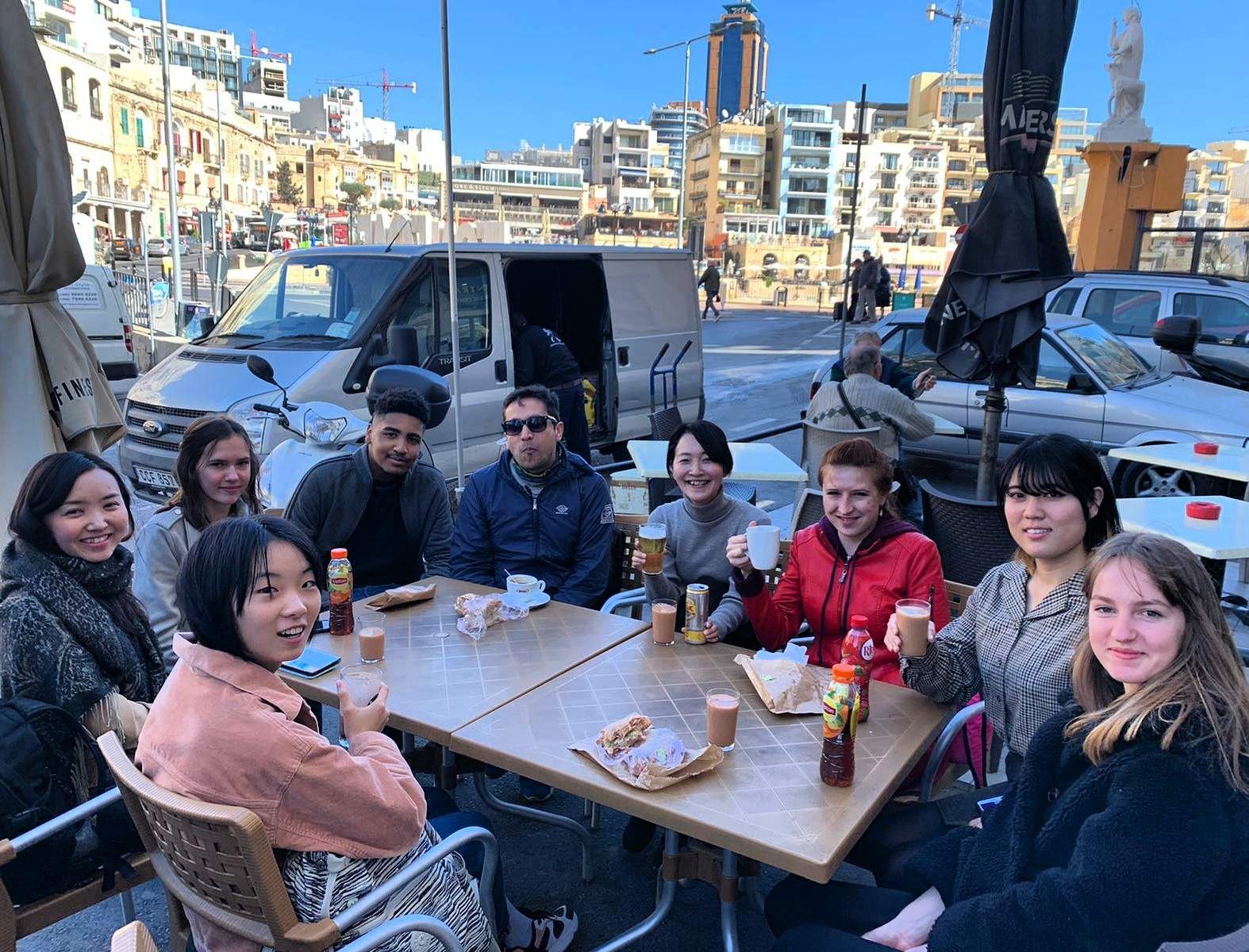 The photo above was taken this week on the 27th February 2020, featuring students from China, Japan, Colombia, France and Russia during one of the lessons held outside the classroom, in Spinola Bay, St Julian's, only 12 minutes' walk from Gateway School of English GSE.
Read this article by Battleface on how Covid-19 is affecting travellers and workers outside lockdown zones:
How Covid-19 is affecting travellers and workers outside lockdown zones