Welcome Summer! Holidays in Malta? Learn English in Malta? Adult English courses, Family programmes & Junior Teenager English camps at GSE!
---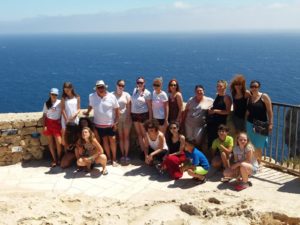 As we welcome the month of July  we look back at the past few weeks which saw the beginning of summer and the start of our Junior Summer programmes for teenagers wishing to learn English in Malta and at the same time make friends from all over the world. It has been a fabulous start to summer as Gateway School of English GSE welcomed students from Italy, Estonia, Switzerland, France, Poland, Russia, Belgium, Germany and many other countries. We have kept our tradition, that of making our junior summer camps and programmes truly international which enhances the English language experience of our students.  We have students staying at our beautiful summer junior residence by the sea, near Malta's largest aquapark Splash and Fun, as well as in host families as close to our junior school as possible.  These are the two types of accommodation we offer to our junior students.  Teenagers attending our junior camp have the opportunity to book a full cultural and leisure programmes with visit to Valletta, Mdina by night, beach trips, night beach BBQ and watersports activities to name a few.
Apart from our Junior programmes, in summer we also run our  adult programmes for those young adults and the more mature who wish to travel to Malta for a Mediterranean summer and at the same time refresh their English language skills and mingle with students from all over the world. while holidaying in Malta. We also have families travelling with their children and staying in our adjacent accommodation who take English language courses with us together with their children. Located in a quiet and peaceful part of St Julian's GSE offers the ideal environment for families as parents can combine the best of both worlds: learning in a safe and secure location while living only a few minutes' walk from the main tourist hub of Malta, St Julian's Bay with its great selection of restaurants, cafes and may other places for family entertainment. The beach is only 15 minutes' walk away and the school and its adjacent accommodation provide ample spaces for on street parking so families wishing to rent a car can easily park their car in front of the accommodation.
If you are still planning your trip to Malta this summer GSE staff is here to help so please do not hesitate to ask any questions you might have. For those who have already booked their English language stay with us we can't wait to see you in Malta and we look forward to making your summer stay with us a success, after all this is our promise GUARANTEED SUCCESS IN ENGLISH and don't forget to use our popular official hashtag #myGatewayToSuccess when posting your photos on Instagram, Facebook or Twitter!
Below are some photos of junior (teens) and adults as well as families travelling with children: