Recently announced COVID-19 measures by the Maltese Government – Online English Courses
---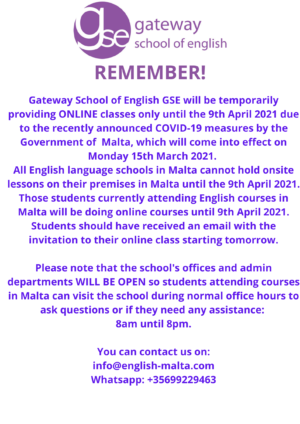 Due to the recently announced COVID-19 measures by the Government of Malta, Gateway School of English GSE had to move all its current student population to online courses. Until 9th April 2021 GSE and other English language schools in Malta cannot hold face-to-face classes at school and we therefore started offering online courses as of Monday 15th March 2021 to students who are taking courses with us here in Malta.  We did our best to minimise the inconvenience and ensure continuity as much as possible by providing the same teachers, keeping the same classmates online as in the previous face-to-face groups.
Voir cette publication sur Instagram
All our teachers are now teaching online the same students they were teaching previously at school. As you know GSE guarantees the 6 General English levels all year round from Beginner to Advanced and the same is guaranteed for online classes.
The timetable for the online classes is exactly the same as the timetable for the face-to-face classes and we are also providing the 10 free conversation classes as part of the free upgrade offer valid until the 26th March 2021.
We have explained to students that this is only a temporary measure and schools will be allowed to reopen and operate onsite classes as of Monday 12th April 2021.
In the meantime our offices at school remain open and students can visit us during normal school hours and speak to our staff.  Therefore those students who require Visa assistance or have questions related to their studies can still come to speak to us at school.
You may also reach us by e-mail: [email protected] or Whatsapp: +35699229463