Back to school. Online English lessons for kids children all year round with GSE Gateway.
---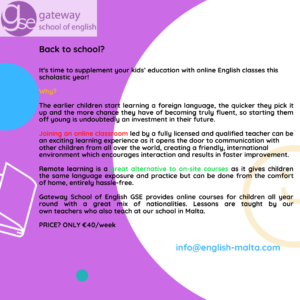 Back to school?
It's time to supplement your kids' education with online English classes this scholastic year!
Why?
The earlier children start learning a foreign language, the quicker they pick it up and the more chance they have of becoming truly fluent, so starting them off young is undoubtedly an investment in their future.
Joining an online classroom led by a fully licensed and qualified teacher can be an exciting learning experience as it opens the door to communication with other children from all over the world, creating a friendly, international environment which encourages interaction and results in faster improvement.
Remote learning is a great alternative to on-site courses as it gives children the same language exposure and practice but can be done from the comfort of home, entirely hassle-free.
Gateway School of English GSE provides online courses for children all year round with a great mix of nationalities. Lessons are taught by our own teachers who also teach at our school in Malta.
PRICE: ONLY €40/week for 10 lessons per week (1.5 hours per day Monday to Friday AFTER SCHOOL HOURS)
If the children cannot attend every day we will charge a proportional price per day, for example 3 times a week is Euro 24 per week (Euro 8 per day).
QUESTIONS? Email us here: [email protected]