Junior School Programmes for teenagers and children Summer 2021
---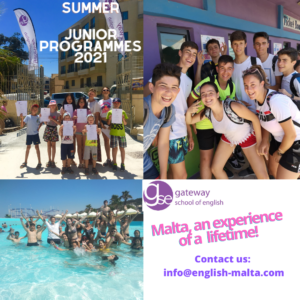 Gateway School of English GSE every summer offers the opportunity to teenagers and children from around the world to travel to Malta to improve their English skills, mingle and make friends with students of different nationalities and cultural backgrounds and practise English outside the classroom while visiting places of interest and having fun – we offer a rich and diverse social programme of free time activities after classes.
This summer 2021 our junior programmes will be organised as usual for groups and individual students travelling alone without a group leader.
All Junior Programme prices include:
full board accommodation (breakfast, packed lunch and dinner) in host families or 3 star hotels in St Julian's or St Paul's Bay
airport transfers
20 lessons per week (9am – 10:30am & 11am – 12:30pm)
a full day by day activity programme (see sample programme below)
continuous supervision by GSE group leaders
We offer two different packages (which include the above):
Accommodation in 3 star hotels in shared triple and twin rooms: Euro 730 per week all inclusive (see above)
Homestay accommodation: Euro 590 per week all inclusive (see above) 
The above weekly prices are valid for 7 nights.
We also offer packages for tuition and social programme (activities): https://english-malta.com/english-courses-malta/junior-programme-teens/
Please contact us if you would like to receive further information or group rates:
Contact us: [email protected]
WhatsApp: +35699229463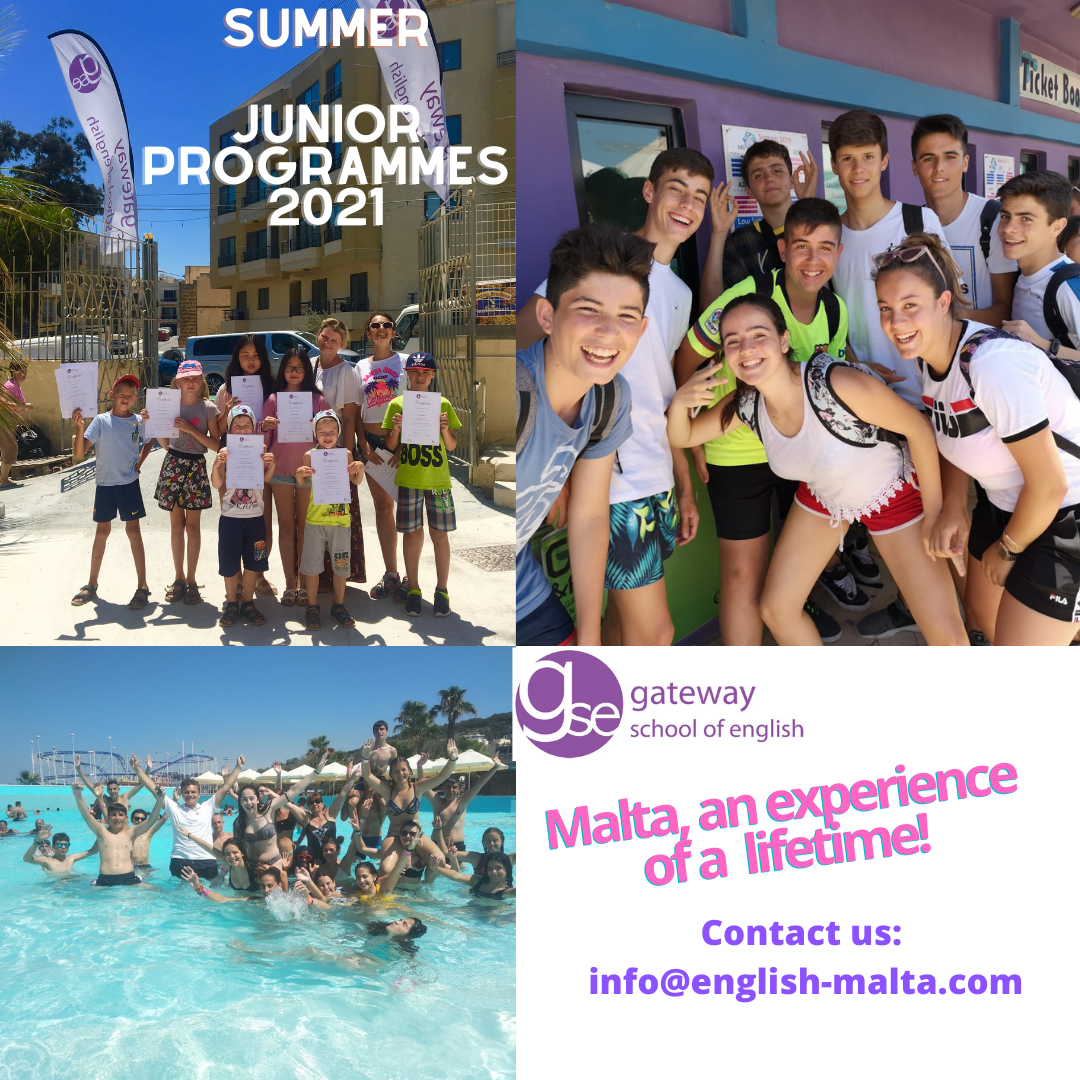 Corsi di lingua inglese per ragazzi, adolescenti e bambini quest'estate con la scuola di inglese a St Julian's
Englischkurse für Junioren, Jugendliche und Kinder in diesem Sommer mit der Englischschule in der St. Julian's
Cours d'anglais pour juniors, adolescents et enfants cet été avec l'école d'anglais de St Julian's
Cursos de inglés para jóvenes, adolescentes y niños este verano con la escuela de inglés en St Julian's
Cursos de inglês para juniors, adolescentes e crianças neste verão com a escola de inglês em St. Julian's
Kurzy angličtiny pro juniory, teenagery a děti letos v létě s anglickou školou ve St Julian's
Kursy języka angielskiego dla juniorów, nastolatków i dzieci tego lata w szkole języka angielskiego w St Julian's
Angol nyelvtanfolyamok junioroknak, tinédzsereknek és gyerekeknek ezen a nyáron az angol iskolával a St. Julian's Gateway
Курсы английского языка для юниоров, подростков и детей этим летом в школе английского языка в St Julian's Gateway School of English GSE
セントジュリアンズゲートウェイスクールオブイングリッシュGSEのイングリッシュスクールで、この夏、ジュニア、ティーンエイジャー、子供向けの英語コース