Gateway School of English GSE is reopening its doors to fully vaccinated students on 16th August 2021
---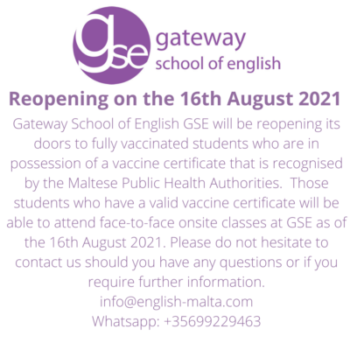 On the 16th August 2021 Gateway School of English will be reopening its doors exclusively to fully vaccinated students who are in possession of a recognised vaccination certificate as stipulated by the Maltese Public Health Authorities. As you might already know only vaccinated travellers are currently allowed to enter Malta.
Below is the current list of recognised vaccination certificates:
-The Official Maltese vaccination certificate
-The EU Digital COVID vaccination certificate, issued by EU, EEA and non-EU countries connected to the EUDCC  ​gateway
-The United Kingdom NHS (paper or digital) Coronavirus (COVID-19) Vaccination Certificate
-The UAE Vaccine certificate issued by the Dubai Health Authorities with a readable QR Code
-The Turkish Vaccine certificate of full course of vaccination.
-The United States CDC Covid-19 Vaccination Record Card: accepted until 31July 2021.  As of 01 August 2021 this will need to be verified through the VeriFLY app to be accepted as a valid vaccination certificate.  The VeriFLY app is available on both Google Play (https://bit.ly/2WkqfrI) and Apple App Store (https://apple.co/3x8K0zn).  Go to https://go.daon.com/veriflyapp​ for Verifly FAQs.
-The Serbian "Digital Green Certificate" with a readable QR Code
-The Gibraltar, Jersey and Guernsey  vaccination certificate

A certificate with 2 different EMA approved vaccines from the above recognised vaccine certificates is accepted as  valid.
For more information regarding the latest travel updates please visit this website:
https://deputyprimeminister.gov.mt/en/health-promotion/covid-19/Pages/travel.aspx
It is important that you bring your vaccine certificate on your first day of school as this needs to be verified by the Maltese Public Health authorities through a mobile app which will be available at the school's entrance hall.