GSE publishes 2023 prices for adult English courses and accommodation, family programmes, 50 plus programmes, teacher training and juniors/kids English courses
---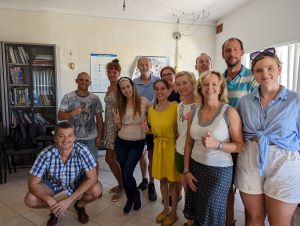 We have just published our 2023 prices for adults, junior programmes as well as teacher training courses, family programmes and 50 plus programmes.
The 2022 prices are still valid for 2023 bookings as long as the booking is received by 31st December 2022. So you can benefit from the 2022 rates if you book your course and/or accommodation for 2023 by the end of this year.  This applies to all adult courses and accommodation as well as family programmes excluding junior (teens) programmes.
In 2022 GSE celebrated its 20th anniversary since it opened its doors in 2002 to students from all over the world and gave the opportunity to many international students to experience the Maltese islands, make new friends from all over the world and improve their English for a better future be it academically, work opportunities or in their professional life. Every year GSE welcomes new student nationalities and we can proudly say that our English language school is known for its excellent mix of nationalities bringing together an eclectic mix of cultures which benefits our students and makes their English language experience in Malta one to remember.
GSE caters for all ages too from the very young, we provide kids classes from 4 to 10 years, to the mature adults aged 50 and over – we offer 50 plus programmes four times a year for those students wishing to be in a classroom with students of similar age. Junior programmes are also offered all year round including autumn, winter and spring and these include tuition, accommodation (homestay all year round and hotel accommodation in summer only), airport transfers and full activity programme. Erasmus funded Teacher Training Programmes for European Teachers are also popular at GSE all year round and we also offer two free activities included in the course price.
For those students who cannot come to Malta for whatever reason or who do not have the time to travel, we offer the online alternative. Students studying with us online will have the opportunity to take live online classes with GSE teachers. Our online lessons follow the same structure as onsite lessons with a good mix of nationalities in our classrooms, student – student interaction and the same atmosphere as we create in our onsite classrooms.  The teachers cover the four language skills (listening, speaking, reading and writing) and lessons are topic based – the same as our onsite classes in Malta.  Since GSE is a fully licensed European educational institution students will also receive an end of course certificate.
Should you wish to enquire about English language learning opportunities in Malta or online with Gateway School of English GSE please do not hesitate to contact us: [email protected] or WhatsApp +35699229463
Below are the 2023 prices:
Adult courses, 50 plus, family (parent and child courses) programmes, teacher training and accommodation prices for 2023:
English School Malta Gateway GSE Adult, Family Programmes and 50 plus Prices 2023
Junior English Programmes for Individual students (up to 17 years) for 2023:
English School Malta Gateway GSE Junior Teens Kids Programmes and Courses 2023
Online English Course pricelist:
Online English Courses Prices GSE Gateway School of English
We look forward to teaching you English in 2023.