Evening or weekend English course and lessons at GSE for non-English speaking foreigners working in Malta
---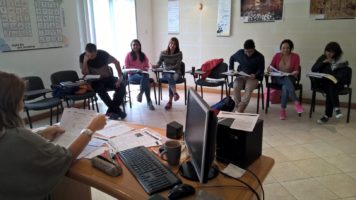 Malta is currently experiencing a large influx of foreign workers as a result of increased economic activity across all sectors of the Maltese economy.  According to a recent report by the European Commission​, economic growth is projected to moderate but will remain consistent.
Malta's economy is among the fastest growing economies in the EU, with record-low unemployment and moderate wage growth. The current account and the budget balances are set to remain in surplus.  This means that job opportunities will continue to increase over the years for both Maltese as well as foreign workers, including non-English speaking workers and professionals who will come to Malta in search of employment in various sectors​, such as financial services, the tourism and hospitality industry, the healthcare industry, the iGaming industry, the aviation industry, the maritime sector and many others, which offer a lot of job opportunities for Maltese and foreigners alike.
It is also important to note that Malta actually needs a large number of foreign workers over the coming years to sustain its economic growth​, as,  without such a workforce​, Malta would not continue to grow and prosper at the current rate.  Needless to mention that the beauty of the Maltese Islands and its climate are also very appealing factors for both the employer seeking to relocate their business to Malta​, as well as the employees looking for job opportunities abroad.
At Gateway School of English GSE we have understood the importance of English in the workplace for those foreign workers who have recently moved to Malta and have found difficulties using English to carry out their duties effectively, be it with colleagues or clients. The need this has created was the driving force behind our recent launch of the evening classes​, which are being held daily from Monday to Friday from 18:30 to 20:00 hrs. This aims to accommodate the standard busy schedule of workers by giving them an opportunity, within a realistic and convenient time frame of 1.5 hours, to learn something new and relevant to their needs everyday. Alternatively, for those students who might not be available on weekdays, we are also offering classes with a duration of 2 hours every Saturday from 09:00 until 11:00.
We are currently offering a choice of General English classes (with separate levels from Beginners to Advanced) as well as Business English classes for those students wishing to cover work related topics such as e-mail English, telephone English, negotiating skills, professional English, presentations in English, work organisation and defining roles and responsibilities, report writing etc.
Prices for evening English courses and Saturday English lessons are very reasonable and students are also given the opportunity to book 10 weekday sessions (1.5 hrs per session) at a reduced price. These sessions can be taken intermittently and not necessarily everyday over 2 weeks.
Apart from improving one's English skills, these evening classes also provide an opportunity for students to mingle with other students from all over the world and learn about each other's profession and career, and possibly also about better job opportunities, as hearing about others' experience of the job market can provide valuable insight into what else it has to offer.
Should you wish to find out more about our evening English courses and Saturday English lessons and prices please click on the image below: