Evening classes courses with Gateway School of English GSE
---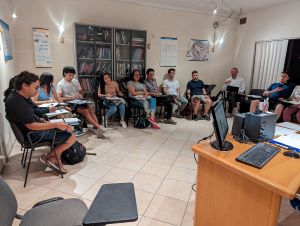 Gateway School of English GSE is one of the few schools on the Maltese islands that offer evening courses after 6:30pm. We offer English language courses, group and private tuition every day Monday to Friday for 1.5 hours per day.  Apart from the General English group courses (available also in the evening at all levels) we also offer IELTS group courses, Business English courses and one-to-one exam preparation courses.
What are the advantages of studying in the evening?
smaller size groups
more individual attention
less busy
ideal for students who work in the monring or afternoon hours
We also guarantee an excellent mix of nationalities in our evening classes and students have the opportunity to make friends from different countries while attending classes.  The atmosphere is friendly and relaxed as usual at GSE in the evening.
For those foreign students who are living and/or working in Malta and wish to come to school by car there is plenty of onstreet parking and students can park the car just outside the school, two minutes from your car to the classroom!  GSE is located in a quiet elegant neighbourhood in St Julian's , a villa area with plenty of parking spaces outside the school.
Remote working is also very popular nowadays and a lot of students who visit Malta love the idea of working in the morning and afternoon hours and then attending classes in the evening after working hours.
The Maltese islands are also popular for digital nomads who choose to work in a business and work friendly environment, amazing climate, great social life and beautiful sights that Malta has to offer. In fact Malta also gives special Visas to non European digital nomads valid for one year fwho require a Visa to travel to Malta. GSE's evening courses are also ideal for non English speaking digital nomads who wish to improve their English while making the most of their time in Malta, getting to know international friends and at the same time brushing up on their speaking, listening , writing and reading skills.
Read this editorial of the Malta Business Weekly to know more about Malta's advantages for digital nomads who choose to work remotely from Malta: https://maltabusinessweekly.com/editorial-malta-the-workation-destination/17623/
Should you wish to know more about Gateway's evening English language courses please visit our page:
or send us an e-mail: [email protected] or WhatsApp +35699229463