ESL English language learning in Malta
---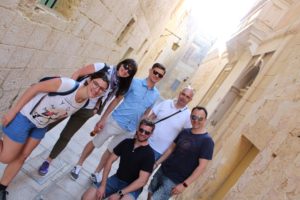 Can I take your order, sir? Gateway School of English students turned the classroom into a fast food joint in one of this week's afternoon conversation classes, while brushing up on their food and restaurant vocabulary and communication skills through role play.
This is one good example of how our students always have the opportunity to practise their functional language skills in an engaging classroom set-up, and then put them into immediate use in real-world situations right outside the class, in the native speaking environment that Malta provides. Malta truly does have it all when it comes to effective learning methods coupled with full English immersion, as class work can always be followed up with real-life interaction which enables students to improve their language abilities in a shorter time and in an international environment.
Malta's ELT & ESL roots can be traced back to 1963 when the country hosted its first cohort of international students on an English language holiday. Since then the English language teaching industry has continued to grow and evolve, and nowadays Malta attracts approximately 80,000 students annually, according to the latest figures released by Malta's National Statistics Office (NSO). The latest statistics and reports can be found in the articles published on ICEF Monitor & the Study Travel Magazine, which are the two most important sources of market intelligence and news on the language travel industry.
The vast majority of Malta's ESL students come from the European region with Italians, French, Spanish, Austrians, Swiss topping the list. Other source markets include Eastern European countries such as Hungary, the Czech Republic, Slovakia, Russia & Turkey. Over the last few years Malta has also seen a rise in the number of students originating from Asian countries namely Korea, Japan, Taiwan and China as well as South American countries such as Brazil, Colombia, Argentina and Venezuela. This balanced mix of nationalities is certainly a contributing factor to Malta's increasing success as an ELT destination for ESL students. At Gateway School of English we always ensure a thorough mix of nationalities, both in our classrooms as well as outside the school (in accommodation and leisure activities), as this enhances our students' English language learning experience in Malta.
Malta can proudly boast high-level professionalism in English language teaching in an industry that is well structured and monitored, and is practically the only language learning destination in the world with legislation which ensures that every school maintains a national quality standard in various aspects of tuition and organisation management. It is the ELT Council which oversees that all English language schools in Malta adhere to the quality standards stipulated by law, and organises regular yearly visits to all schools, including member schools of the association of teaching organisations in Malta: FELTOM. All this has resulted in rapid growth for the industry.
The beauty of the Maltese islands is also a major driving force behind Malta's ELT / ESL success story. Malta is very rich in history and culture and enjoys numerous historical sites such as the famous prehistoric temples,  which were places of worship for the Neolithic people and date back thousands of years BC. Valletta, Malta's capital city, a UNESCO World Heritage site built during the times of the Knights of the Order of St John and founded by Grand Master Jean Parisot de Valette, is only a few kilometres away from Mdina, the old capital city whose origins date back to the 8th century BC and is known as the Silent City. Moreover, the close proximity between such historical attractions enables students to maximize their free time in Malta and visit various places in a short time. Annual cultural events which take place in Malta also attract a lot of people from all over the world, making Malta a multicultural hub, perfect for foreign students learning English in Malta. Not to mention the excellent climate with sunshine all year round which allows visitors to enjoy a variety of outdoor activities. All these factors undoubtedly enhance a student's English language learning experience in Malta.
The Azure Window which collapsed during a storm last winter drew many tears, especially from previous visitors who had admired the site while in Malta and fell in love with its natural beauty. But as CNN put it, Malta is so rich in natural attractions that even though Malta still mourns the loss of the Azure Window, visitors remain spoilt for choice in a place which has many more alternatives to offer. Thank goodness for that!