Staying at the Gateway School of English Residence in Malta
---
GSE Residence Daily Weekday Timeline
Ever wondered what it's like to stay at the Gateway School adult student Residence? Read on to find out!
 MORNING
Waking up:
Waking up in the morning is definitely no ordeal at the school residence. With the school right next-door there's plenty of time to spare before lessons to get ready at your own leisure. You have enough time to play around with different outfits until you pick the best one, experiment with your hair and makeup, finish that homework exercise you forgot about last night, or even have a lie-in if you're feeling lazy!
If, however, you are naturally an early riser, we would definitely recommend an early morning walk around the neighbourhood. With sprawling valley views and the crisp clean morning air, this is indeed a fine way to start the day, and you are sure to encounter others on their daily walk alone or (more likely!) with their dog.
Whether you want a brisk walk or full-on jog to get some of your daily cardio out of the way before breakfast, or a nice relaxing stroll, it's all good, as breakfast awaits you in the canteen whenever you're ready, between 8:00 and 9:00. Mmm, are those pancakes??
Breakfast:
Breakfast is a buffet and includes a selection of:
three types of bread

toasted bread

two choices of cereal

scrambled eggs

butter, ham, cheese and jam

tomatoes (when in season)

tea, coffee and hot chocolate

hot and cold milk

free flow of water and orange squash
Keep in mind that it is never too early in the day to start practising your English, so make sure to wish everyone who walks in a good morning. It's also polite to ask if they've had a good night, and you can even start discussing plans for the afternoon and evening, to slowly fill up your schedule for the day. If you plan to go out, don't forget to check the weather forecast online, so you will know if you need to take sunblock, an umbrella, bathing suit or jacket!
Pay attention to the news on the TV which is always on, as this will not only keep you up to date on current affairs, but is an important listening exercise that will help you attune to English faster with daily exposure.
Breakfast time in the canteen is also the perfect opportunity to speak to the residence staff, whether you need to:
discuss any dietary requirements,

give or collect your laundry,

ask for a change of towel,

or speak about anything else that is on your mind.
Now that you have rested and properly nourished your body, you are ready to face the day and work your brain to take on some English challenges in class! Go for it!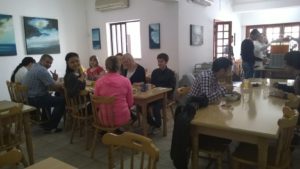 AFTERNOON
Lunch
Is that your stomach rumbling? All that speaking and thinking in English must have made you hungry! Lunchtime it is!
Lunch at the canteen is characterised by the same buffet style as breakfast with the TV playing in the background once again for your relaxed viewing. The choice of six different dishes includes:
fresh vegetable soup

grilled vegetables

salad

potatoes (mashed, baked, roasted or chips)

tomatoes

chicken or pork or breaded fish
+
free flow of orange squash and water

seasonal fruit or sweets
This is a good time to unwind and detach after the morning lesson and recharge yourself mentally and physically, especially if you have an afternoon class soon after! You can use the time during the lunchbreak to let your mind flow freely and try to let your tongue go with it, in English, making light and effortless chatter (like "small talk")that does not require much thought but which will still help develop your English fluency, i.e. your ability to express your thoughts more easily.
If you still find casual conversation in English difficult at your current level, don't worry – listening is just as important as it will eventually lead to your own smoother spoken production, so make sure to pay attention to what your fellow students are talking about and try to join in when you can, as best you can. If everyone is a little bit quiet there is always the news which you can watch together and try to comment on in your own way 🙂
Here are some good news sites with written texts and recorded audio specifically designed for students so they are not too difficult to understand:
Free time
With its open spaces both in- and outdoors, the residence is an ideal place to spend your free time when you are not in class or out on an excursion. With students staying here from all over the world, staying at the residence is the true multicultural experience.
The four TV rooms in the common area are comfortable spots for students to gather for a collective homework session around the coffee table, an evening in front of the telly (TV) to listen to some good English (we get BBC, Sky News, CNN etc.), or even a game of cards or a board game. Internet access is at your fingertips if you need it to study, work or relax, so be sure to check the notice board in the TV room on your floor for the password to a Wi-Fi network that will ensure you have a steady connection throughout your stay.
When the weather permits (90% of the time at any time of the year), it is also pleasant for students to sit out on the patios (there are benches, garden tables and chairs) for a snack (or a delivery take-out from one of the many great restaurants in St Julian's), the surrounding views and some light-hearted conversation in English.
It is a particularly warming moment when students realise that, in spite of their limitations when it comes to communication, they are still able to get by in English well enough, and can make friends, talk about general topics, the news, share interesting information about their different cultures and way of life and, ultimately, laugh together. It's amazing how humour can put you at ease and bring people together, and when you can tell and understand jokes in English, that's when you know that you're really learning!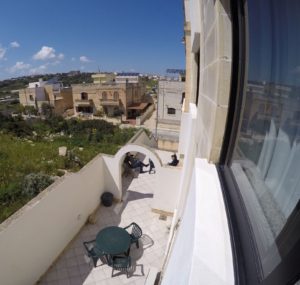 EVENING
When the day is over and your head's full of English, Maltese sights and all the things you and your fellow students have discussed, it's time to call it a day and turn in. Nothing beats crawling into bed after a full day. You can continue browsing online from bed as the Wi-Fi connection reaches every room in the residence, so if you want to fall asleep to some English songs, hypnoses or a film, you can!
One great thing about the school residence is that all bedrooms are fully air-conditioned, which means that you can control the heating and cooling as you please. This is definitely a big advantage when it comes to choosing your accommodation in Malta, as no other student residence or host family is likely to have air-conditioned bedrooms!
~~~
We hope to see you here sometime so you too can experience the Gateway School Residence way of life, which we are sure you'll enjoy. For more information about the 64-bed and spotlessly kept premises, facilities, cleaning and laundry services, and the Dos and Don'ts, see pages 19-23 in our Pre-Arrival Information Student Handbook right here.
Glossary:
(no) ordeal – (not) a big deal
(plenty of) time to spare – a lot of time to do different things
at your own leisure/pace – you can do things without rushing
play around with – experiment
have a lie-in (noun: lie-in; verb: to lie in) – to wake up late and stay in bed later than usual
early riser (noun) – someone who wakes up early naturally (for example without needing an alarm clock)
sprawling – extensive, spread out
crisp (adjective) – fresh, cool, invigorating (air)
to encounter – to meet, to bump into
brisk (adjective) – quick, fast-paced
full-on – intense
stroll – a slow, relaxed walk
nourished – healthily fed
face the day – confront/start the day and be ready to do what is necessary
to take on – to undertake/accept/start something challenging
Go for it! – an exclamation of encouragement to someone who is going to do something new, difficult, scary or exciting
rumbling – making a growling, groaning, gurgling noise, similar to distant thunder
small talk – polite conversation about trivial, uncontroversial topics, e.g. the weather
telly – (British informal) television
to get by – to survive, to manage
put (someone) at ease – to make someone feel relaxed and comfortable, not tense
to call it a day – to stop working and end
turn in – to go to bed
Nothing beats … – Nothing is better than …
crawling into bed – dragging yourself/getting into bed slowly when you're tired