The Heat Is On: English language expressions to refer to the heat or to feeling hot.
---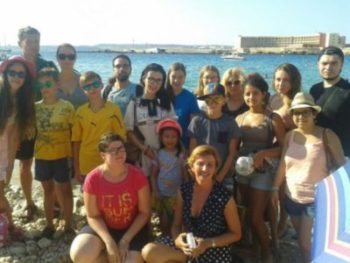 The Heat Is On…in Malta…and how about in your country?
Like many other countries throughout Europe, this summer Maltese shores were hit by the merciless and therefore aptly named Heatwave Lucifer, which frequently saw temperatures rise to over 40°C for longer than average periods. Super intense indeed!
Thankfully the worst is past and temperatures are far more bearable now, meaning everyone has more energy to enjoy themselves outdoors. Good thing given that the Maltese festa season is still underway! Gateway's students have in fact been to a few feasts already and this weekend is St Julian's feast in Spinola Bay / St Julian's Bay which students can visit on foot, as it is only a 12-minute walk from the school area.
Here are some useful expressions that will come in handy the next time you need to describe the varying intensity of the heat.
Expressions to refer to the heat or to feeling hot:
To sweat like a pig
Ew, don't touch me! You're sweating like a pig!
To be a hot mess
I've been going up and down the stairs all day – I'm a hot mess right now.
The dog days of summer
The temperature has already gone up to 43°C this morning. These really are the dog days of summer, aren't they?
A scorcher
It's sizzling out on the balcony and it's still only 7am. It's going to be a real scorcher today by the looks of it!
Balmy/sultry
We had a barbeque last night and it was very balmy down by the beach. There was hardly a sea breeze blowing.
Adjectives to describe the heat: scorching, sizzling, sweltering, baking, blazing
Adjectives to describe feeling hot: boiling, roasting, burning up
And finally, here are a few good tips to remember whenever the heat gets a bit too much:
Drink plenty of water to keep hydrated
Avoid staying in direct sunlight between 11:00-16:00
Put on sunblock with a minimum SPF (sun protection factor) of 30 when going outdoors
Keep your body cool by staying in an air-conditioned environment, taking cool showers and cold drinks or ice-creams
Don't overwork yourself physically, make sure to get enough rest to avoid heat exhaustion
If you experienced the heatwave here in Malta or in another country, which of the below was the closest to your reaction:
Bring it on! I love the heat and wish it could be summer all year round!
Can't wait for it to end! I hate summer and am already counting the days to Christmas …
Whatever – it makes no difference to me and I don't really care about the weather as long as I can still enjoy myself