Gateway School of English installs latest classroom technology interactive whiteboards in all GSE classrooms
---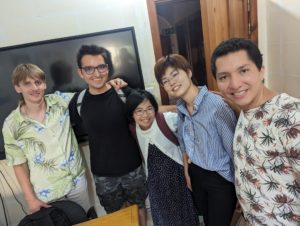 We are proud to announce that GSE is now fully equipped with the lastest classroom technology which enhances the learning experience of our students.  All classrooms are now equipped with StarBoard Interactive Boards which provide a more engaging atmosphere in the classroom as teachers can access online digital material, coursebooks and other English language teaching materials instantly.  Couresbooks can also be displayed on screen and audio as well as visual material accessed directly from the Interactive Board during the lesson.
Teachers can introduce topics for daily lessons through video presentations, visual or audio material as well as innovative techniques whereby they can elicit information from students and stimulate a discussion while introducing the topic of the lesson.
There has been a very good response and feedback from our students and the new technology is a motivating factor that makes their English language learning experience even more successful.
The Starboard TE-YL interactive flat panel display offers the latest in infrared touch technology and an android operating system and therefore among the latest and most advanced classroom technology.
Gateway School of English GSE is continuously investing in learning material for its students as the teaching experience of our teachers as well as the learning experience of our students are our top priorities.