Christmas gift ideas for students who want to learn English online
---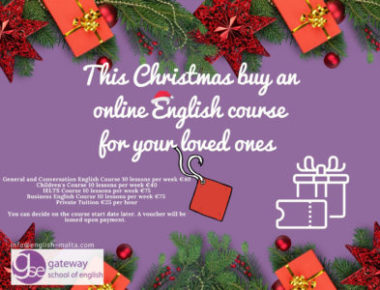 Not sure what to buy your loved ones this Christmas?
Why not give them something they'll find both useful and fun and which will add value to their skill set without adding clutter to their homes. If that sounds just about right, then take advantage of our first-time offer to buy a gift voucher of ONLINE LIVE ENGLISH LESSONS with our teachers which is valid until 31st December 2020 and can be used anytime throughout 2021.  So you can buy it for Christmas as a VOUCHER and then use it later, the voucher will be valid for any online lessons held over Christmas 2020 or any time between January and December 2021.
Prices start from only Euro 40 for 10 lessons per week.
Send us an e-mail: [email protected]
Online lessons are an amazing alternative to taking a language course abroad in these restrictive times, and will give your loved ones the opportunity to learn or improve their English and interact with students of other nationalities from the comfort of home. Our online classes are easy to log on to (via Google Classroom) and facilitate easy communication between teacher and students, simulating an in-class experience which even makes groupwork possible so that students hardly feel that they are not actually in a physical classroom.
As always, we have a great mix of nationalities and qualified teachers who are able to make students' online learning experience engaging and conducive to swift progress.