April showers bring May flowers at Gateway School of English Malta
---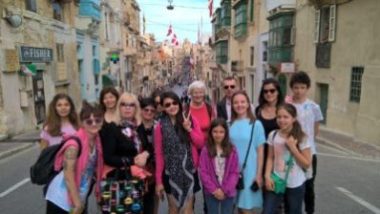 20th April 2017
"April showers bring May flowers"
This is what we say in English when it rains in April, as a more optimistic way of looking at any unexpected spells of dull and dreary weather. Here in Malta we are lucky to have more sunshine than rainfall in April, and this was fortunately the case through most of the Easter period, as can be seen in the photos shown here.
On Good Friday we enjoyed the sights in Mdina and Rabat, snacked on delicious Maltese pastizzi (savoury cheesecakes), visited some impressive life-size displays of the Last Supper with salt and rice artwork, and ended the day by attending the solemn but still colourful procession in the central antique village of Zebbug, with its streets fully decked out in pavilions and decorations, detailed representations of the Passion, dazzling costumes and the strange sound of the loud wooden clapper (ic-cuqlajta) in the place of the usual bells.
Easter Sunday had some activities that were not to be missed, best of all the traditional celebrations that included brass band marches and locals parading and running with the glorious statue of the Redeemer held shoulder-high, which the students witnessed in all three of the Three Cities! Definitely the best place to experience the culmination of the typical Easter festivities. The eventful morning also allowed for a relaxing boat ride round the magnificent Grand Harbour between the Three Cities and the capital of Valletta. A waterfront lunch was enjoyed at the main of the Three Cities in Vittoriosa (Birgu), overlooking the breath-taking yacht marina and surrounding harbour area. An unforgettable Easter Sunday indeed.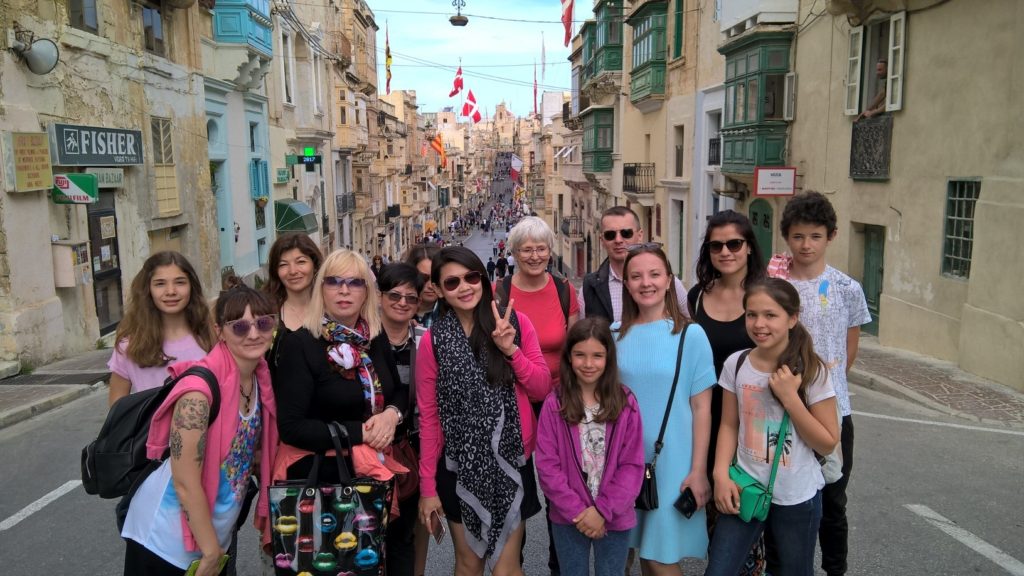 With the Easter holidays at an end, we were glad to turn our attention to some cinematic entertainment yesterday evening, and the film of choice for this week's movie night was a recent release and family favourite Nine Lives, starring Kevin Spacey, Jennifer Garner and Christopher Walken, which proved successful with both the older and younger students, making it ideal for those who are currently here on family programmes.
All in all spring is a great time to visit Malta, with plenty to see, do and enjoy both in and outdoors. We hope that you will also have an opportunity to experience all of this sometime in the near future.
Until you do, here are a few English idioms and expressions (with definitions and example sentences) around the theme of spring and nature:
Don't put all (of) your eggs in one basket 
Don't concentrate all your efforts/thoughts/energy/time into the same thing. Make sure to have different options open because you might not get the result you are expecting or relying on.
I know you really want to win that scholarship, but don't put all your eggs in one basket. Try to apply to as many other colleges as possible, just in case, to be on the safe side.
To spring into action 
To get to work suddenly
Get off Facebook now! The boss is outside parking the car! Quick! Spring into action!
To be no spring chicken
Someone who is not young and energetic anymore
There's no way I'm going out this evening, I'm 65 and absolutely exhausted! I'm no spring chicken you know!
A ray of sunshine 
A person whose presence brings joy
Our new The new hostess at the restaurant is a ray of sunshine. Customers love her!
The grass is always greener on the other side
An alternative situation always seems more attractive than one's actual reality, even if it isn't
I always wanted to live in an apartment in the city, but now that I'm here I really miss my old house in the village! It seems that the grass is always greener on the other side.
A fair-weather friend
A friend who is only with you in the good times; never available in your moments of need
I've decided I'm not speaking to Liz anymore. She was nowhere when I needed her after my breakup with Ralph last month. She's just a fair-weather friend.
To have a green thumb
To be naturally good at gardening and handling plants and flowers
Even though my dad is a great gardener, I've never had a green thumb. My plants always die after a few weeks!
A social butterfly
A person who is drawn to people and draws people to them
Look at Ellie, she's talking to everyone. That girl is such a social butterfly. She loves being around people and everyone is attracted to her.